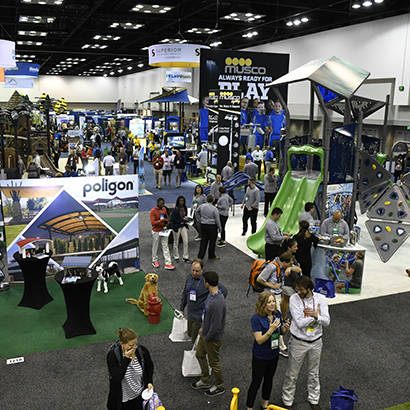 Preparing to attend a multiday conference away from home can be a daunting experience. What are you going to wear? How can you make sure you attend the best sessions? Where are the best places to eat or try a local brew? To help you prepare for the 2019 NRPA Annual Conference, we have a few insiders' tips to help you get the most from your experience and enjoy your time in Baltimore.
Get "Swaggy" in the Exhibit Hall
Whether you have a kid's birthday or momentous anniversary coming up, the exhibitors at the NRPA Annual Conference are prepared to provide the gift you need to stay out of trouble at home. With more than 400 exhibitors, you will have the opportunity to collect a treasure trove of custom-branded, exclusive swag items. After your visit to the exhibit hall, you won't need to ask for holiday gift lists, so bring an extra suitcase.
Discounts on Top Eats
A trip to Baltimore is a trip that must include great food. But, with close to 50 famous Baltimore restaurants and more than two-dozen attractions, stores and transportation options offering discounts to all conference attendees who show their badges, you won't have to bust your budget. You can find a full list here of all the great establishments giving discounts to conference attendees.
Act Like You've Been There
The best and easiest way to plan your conference itinerary is to download the NRPA Events app. Browse the sessions and speakers, create your custom itinerary, start connecting with other attendees, mark the exhibitors you want to visit and read the conference highlights — all in the palm of your hand. Every year, attendees rank the NRPA app as a highly valuable resource for navigating the conference. This year, it will be better than ever.
Don't Miss Our Nation's Capital
Baltimore is only 40 miles from Washington, D.C., so you should plan to visit some of our nation's most amazing historical attractions — where else can you enjoy free access to several amazing collections. Attend the Moonlight Tour of the D.C. Monuments to see some famous sites in a brand-new light. Join a tour guide on an educational driving/talking tour of the Capitol building, Library of Congress, African American History Museum and the Culture Museum. On Friday, September 27, join NRPA's Public Policy team on Capitol Hill to meet your members of Congress and advocate for parks and recreation. All these activities require advance registration and space is limited, so sign up soon.
For more information about the 2019 NRPA Annual Conference in Baltimore, Maryland, scheduled for September 24–26, visit www.nrpa.org/conference.
Matt Brubaker is NRPA's Director of Marketing.