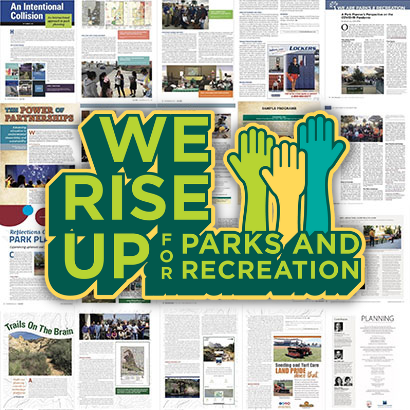 With July being Park and Recreation Month and this year's theme being "We Rise Up for Parks and Recreation," I would like to discuss one way for park and recreation professionals to rise up: telling our stories. Specifically, I encourage all of us to share our stories, both personal and professional, to communicate the importance of parks and recreation to communities across the country. Since 2010, I have written numerous articles from my perspective as a park user and as a park planner with the Los Angeles County Department of Parks and Recreation (DPR). I have done this not because my job requires it, but because of my passion and love for parks and recreation. For all of us who care deeply about our work and the communities we serve, it is very important that we tell our stories to:
Make the Case
We must consistently and persistently make the case for parks and recreation, especially to decision-makers who author legislation, develop policies, and make funding decisions at all levels of government that impact park agencies and the amount of resources allocated to them. We need to be prepared to present information about the value of parks and the benefits they offer locally, regionally and nationally.
For example, the National Recreation and Park Association (NRPA) regularly makes available research, including data, studies and reports, demonstrating that parks are critical infrastructure and that park and recreation professionals make significant contributions to our communities. A recent article by Kevin Roth, NRPA vice president of research, evaluation and technology, indicates that NRPA has developed five statements to highlight how parks and recreation is essential:
Parks and recreation promotes health and wellness.
Parks and recreation's programming and education activities are critical to childhood development.
Parks and recreation drives economic opportunity.
Parks and recreation is everywhere, uniting people and strengthening communities.
Parks and recreation is essential and adaptable infrastructure that makes our communities resilient in the face of natural disasters and climate change.
Each statement is backed with multiple supporting proof points that are supported by data and insights culled from research conducted by NRPA, other organizations and the academic community.
Counter False Narratives
Parks are sometimes dismissed as "nice to haves" or as being just about "fun and games." We must counter these narratives, which are inaccurate and ignorant, because they essentially disregard the growing body of research that shows the importance of parks and the wide range of benefits they offer. To advance park equity and ensure parks are properly valued, we need to frame parks as the "essential, multifunctional and resilient infrastructure" that they are, as suggested by researchers Alessandro Rigolon, Elva Yañez, Manal J. Aboelata, and Rachel Bennett in their insightful journal article.
Another false narrative identified in the article is that green spaces are "universally good" and benefit all members of a community equally and unconditionally. This, of course, is not true. Instead, this narrative reflects a "lack of awareness of or sensitivity to historic or persistent present-day racialized inequities in access to green spaces or provision of park-related programs" (Rigolon et al., 2022).
Encourage and Inspire
We should also tell our stories to encourage and inspire others in the field. Even as rewarding as a career in parks and recreation is, we can all use some encouragement and inspiration to keep us going. A few years ago, I wrote an article about engaging children in the park planning process and then unexpectedly received the kind note below from an assistant director of parks and recreation in Texas:
"I just wanted to reach out and give you kudos for the article you wrote for NRPA. I practice all of these methods that you wrote about and have been doing so for years. I did these exact activities for our parks master plan update that I am currently writing. It just makes me feel good that others are doing these activities in their communities. Sort of validation for me, personally."
In 2021, I was fortunate to be a guest on an episode of Open Space Radio, during which I talked about my passion for park planning and the equity-focused park plans I wrote about in "From Plans to Parks." A listener from Virginia resonated with what I said and provided this feedback:
"Great podcast! I will use this podcast and Clement's article teaching about comprehensive park master planning at my university's park planning class. Both the article and the podcast provide excellent points for briefing county leadership as we begin updating the county's comprehensive park master plan. Thank you!"
I share these as real-life examples of how telling our stories can encourage colleagues elsewhere, which in turn should motivate us to continue sharing for the benefit of others in our field.
Reflect and Learn
Telling our stories can help us to process, reflect and learn from our experiences and the projects we work on. In 2020, when most of us were staying indoors due to COVID-19, I maintained my sanity by jotting down my ideas and thoughts. It turned out to be my most productive year as a writer. I wrote an article offering my perspective on the pandemic, which was published on NRPA's Open Space blog and in Parks & Recreation magazine. I also authored a sidebar to the American Planning Association's Planning magazine regarding the importance of being able to walk to a nearby park for one's physical and mental health and well-being. In addition, I contributed an article to Parks & Rec Business magazine sharing my reflections during the pandemic, as well as a post about giving thanks on the Open Space blog.
Final Thoughts
As park and recreation professionals, we have many good stories to tell. And there are numerous ways for us and the agencies we work for to share these narratives. Writing articles and blog posts has been my preferred outlet, but our stories may also be told via posts on social media outlets like Facebook, Instagram, LinkedIn and Twitter, media interviews, press releases, and official publications like annual reports, fact sheets, and other materials that can be shared with the public and decision-makers.
Please be sure to also read this blog post by Cort Jones, NRPA senior manager of digital content, which discusses various ways to support our field and get involved during Park and Recreation Month and beyond.
Clement Lau, FAICP, DPPD (he/him), is a Departmental Facilities Planner with the Los Angeles County Department of Parks and Recreation.