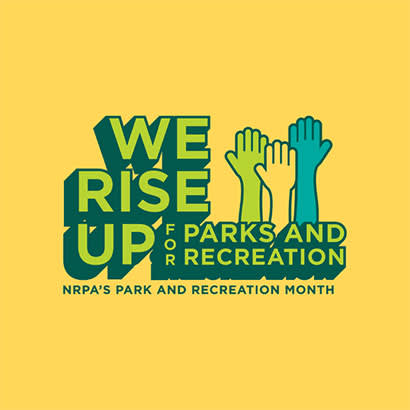 It is officially our favorite month of the year here on Open Space Radio, and I'm so excited to celebrate Park and Recreation Month throughout July. Today's episode is a short one, and you're stuck with just me for a few minutes, but I wanted to take the opportunity to share some of the ways you can join in the Park and Recreation Month celebrations with us at NRPA.
Since 1985, people in the United States have celebrated Park and Recreation Month in July to promote building strong, vibrant and resilient communities through the power of parks and recreation and to recognize the more than 160,000 full-time park and recreation professionals — along with hundreds of thousands of part-time and seasonal workers and volunteers — that maintain our country's local, state and community parks.
This year's theme, "We Rise Up for Parks and Recreation," focuses on bringing awareness to how important it is to rise up and support our field, because every day, park and recreation professionals rise up for their communities in service of equity, climate-readiness, and overall health and well-being. So, all month long, NRPA will be highlighting the amazing impact that park and recreation professionals are having on their communities – so right off the bat, make sure you're following NRPA on social media (Facebook, Instagram, Twitter and LinkedIn) to catch some of these amazing stories.
Tune in to the full episode below to learn how you can get involved in Park and Recreation Month this July, including:
Listen to the episode for the full story.

This episode of Open Space Radio is sponsored by ACTIVENetwork. ACTIVENetwork rises up for park and recreation departments throughout North America with a powerful all-in-one software solution that enables parks and rec departments to run smoothly so they can focus on what matters most: their community. Learn more about how ACTIVENet can power your community at activenetwork.com/nrpa.