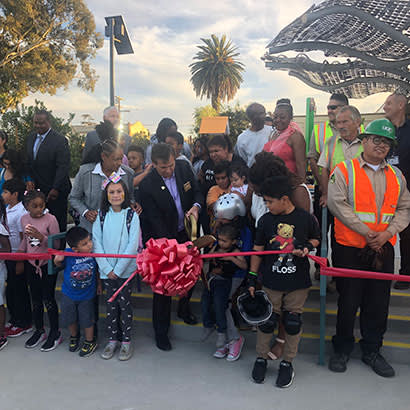 For an enhanced digital experience, read this story in the ezine.
On November 18, 2019, Woodcrest Play Park opened to the public. This innovative project transformed previously under-utilized space at Woodcrest Library to a vibrant public park, and is the result of a collaboration between the Los Angeles County Library and the Los Angeles County Department of Parks and Recreation. The park consists of a children's play area with book-themed elements, a seating area with USB and laptop charging stations, an outdoor fitness zone, and over 1,500 new drought-tolerant plants.
Park Need, Access and Benefits
Woodcrest Play Park is located in the unincorporated community of Westmont, which has about 33,000 residents and a very high level of park need per the 2016 Los Angeles Countywide Parks and Recreation Needs Assessment. This park has increased the percentage of Westmont residents living within a 10-minute walk of a park from 35 to 57 percent, which translates to an additional 7,000 residents, including 2,000 youth, being able to access a nearby park.
Sadly, a few months after its opening, the park closed due to the COVID-19 pandemic. While it is a necessary precaution, it is still disheartening to know the park and its wonderful amenities are not accessible to residents who need them most, even if it is temporary.
We all need parks. Not only was this the tag line for our needs assessment, but it is also a statement that has been validated repeatedly during the COVID-19 pandemic. At a time of need, our parks, beaches and trails revealed themselves as the essential civic infrastructure they are.
It is unfortunate that it took a pandemic for many to realize what park and recreation professionals have known and argued for a long time: we must invest in parks because they are critical to our quality of life and offer multiple vital benefits that are quantifiable.
Park Equity
The COVID-19 pandemic has put a spotlight on the park inequities that exist in L.A. and across the country. Our most underinvested communities are the ones most dependent on parks for their health and well-being. When failures to comply with physical distancing guidelines result in the closure of certain amenities and even entire parks and trails, lower-income residents suffer the most. As Catherine Nagel, executive director of City Parks Alliance, said in a recently released statement, "Parks and green infrastructure — especially in low-income communities where their many benefits are often most needed — is often limited, leaving many residents without access to quality parks, recreational opportunities, and other positive environmental conditions. To help our communities recover, cities must invest equitably in parks and recreation facilities, redressing decades-long underinvestment."
With the issuance of stay-at-home orders, we have been asked to stay home as much as possible, but are allowed to walk around our neighborhoods to get some fresh air or exercise. This makes sense because cabin fever is real and being inside for an extended period of time is challenging. However, not all neighborhoods are created equal. Specifically, lower-income residents often live in neighborhoods that have safety issues and/or lack the pedestrian infrastructure (like sidewalks, crosswalks, curb ramps and trees) and conditions that make walking safe and comfortable. In addition, while wealthier folks are likely to have sizable backyards, swimming pools and/or personal gyms, those living in underinvested communities do not have such luxuries.
Ideas to Consider
A crisis like we're experiencing is also an opportunity to reexamine current practices and contemplate new ideas. An important question that has emerged with the closure of many parks in L.A. is, "Can't we find ways to manage recreation facilities without outlawing their use?" as Manal Aboelata, a parent and deputy executive director of Prevention Institute, asked in a letter to the editor.
Perhaps the concept of carrying capacity offers part of the answer. While the term is typically associated with national parks and is more concerned about the protection of these areas from overcrowding, I wonder if it could be adapted for local parks. Within the context of the COVID-19 pandemic, the goal would be to have some objective or scientific way, using GIS and other tools, to determine the capacity of a park, beach or trail, while considering physical distancing guidelines.
Another idea worth considering is the temporary conversion of some streets to public spaces where people can walk, exercise, bike and hang out without worrying about vehicular traffic. This is one of the recommendations that the National Association of City Transportation Officials has for cities as a way to create more space during COVID-19.
The Work Continues
So, what are L.A. County's park planning and development professionals doing in the midst of the COVID-19 pandemic? Well, a few of my colleagues have been activated as disaster service workers on assignments, such as providing GIS and administrative support at the L.A. County Office of Emergency Management and helping to staff a call center to assist small businesses. Some are working on efforts to temporarily convert indoor gyms at parks to emergency homeless shelters. The rest of us are continuing to do the necessary behind-the-scenes work to improve existing parks and develop new ones.
Stay Positive and Strong
For all my fellow park and recreation professionals, we must stay strong and continue to serve our communities to the best of our ability. There will be a day when the pandemic is over. There will be a day when our beloved beaches, trails and parks — like Woodcrest Play Park — will be re-opened. I look forward to that day.
For more information from the Los Angeles County Department of Parks and Recreation, please see the COVID-19 Updates from L.A. County Parks webpage.
For more information about NRPA's response to COVID-19, as well as available resources for park and recreation professionals, please see our Coronavirus Disease 2019 (COVID-19) webpage.
Editor's Note: This article has been adapted from its original version posted to NRPA's Open Space Blog. To read the full text, visit the blog post.
Clement Lau, AICP, DPPD, is a Departmental Facilities Planner with the Los Angeles County Department of Parks and Recreation.