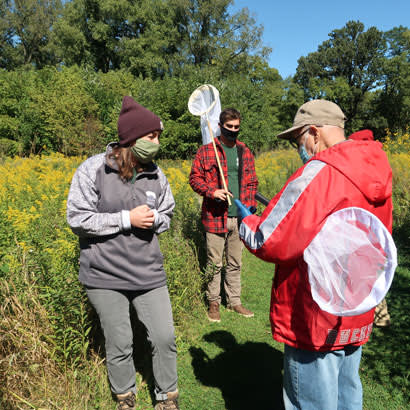 Like so many activities forced to adapt this year due to the pandemic, the NRPA Parks for Pollinators BioBlitz, which was planned to run in June for Pollinator Month, was rescheduled for September to ensure agencies and their communities could participate safely. Fortunately, our BioBlitz lends itself as a virtual activity in which anyone could participate. This allowed many agencies to join and encourage their communities to safely explore parks and find what plants and pollinators live there. The activity not only let participants safely explore their local parks and learn more about the species through the iNaturalist mobile app, the information gathered also provided specific data on the species located in the parks — which can help park and recreation professionals manage those spaces for biological diversity, as well as building ecological resilience.
This year, nearly 200 park and recreation agencies or likeminded organizations downloaded information on how to host a BioBlitz. Events were organized from coast to coast, with 24 states represented from Alaska to Florida, and a total of 57 park and recreation agencies and likeminded organizations participating. These groups recorded nearly 19,500 observations, documenting thousands of different species of both pollinators and pollinator-supporting plants. Nearly 2,300 people participated in the national BioBlitz to record these findings and more than 3,000 experts helped identify the findings using iNaturalist.
Participating park and recreation professionals found creative ways to connect virtually with the communities they serve. Examples included: holding virtual sessions to help educate their communities on local pollinators and host plants, providing adventure kits for participating youth, installing creative features like informative sidewalk chalk displays to educate and engage in a safe manner, providing directions for pollinator crafts and games for families, and the list goes on. We look forward to collecting and sharing stories from all the innovative ways agencies participated this year!
Those that hosted a BioBlitz event in September had the chance to win a $1,000 prize and one of three Scotts Miracle-Gro prize packs to help with pollinator habitats or programs.
Congratulations to the grand prize winner of $1,000 and one Scotts Miracle-Gro prize pack, DuPage Monarch Project (DuPage County, Illinois), a partnership between Forest Preserve District of DuPage County, Sierra Club: River Prairie Group, The Conservation Foundation and Wild Ones: Greater DuPage Chapter.
The winners of the two additional prize packs are Bismarck Parks and Recreation District (Bismarck, North Dakota) and San Marcos Parks and Recreation Department (San Marcos, Texas).
Thank you to everyone who participated and hosted events in their communities! NRPA will be collecting stories, images and feedback from everyone that signed up for our BioBlitz this year. Please send us your best stuff — we would love to share your stories, too! We hope to see even more of you join us in a future Parks for Pollinators BioBlitz!
Note: The Parks for Pollinators campaign, hosted through a partnership between the National Recreation and Park Association (NRPA) and The ScottsMiracle-Gro Foundation, aims to raise public awareness of the pollinator crisis and encourage local action through public parks and recreation. NRPA and The ScottsMiracle-Gro Foundation believe parks play a key role in protecting and preserving pollinators and their habitats. Together, as part of the ScottsMiracle-Gro's GroMoreGood initiative, they are working to educate more children, families and communities about the importance of pollinators and what people can do to help.
Michele White, CAE, IOM, is an NRPA Program Manager.