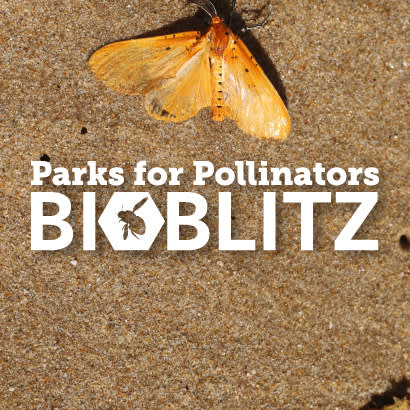 What's a BioBlitz?
The Parks for Pollinators BioBlitz is an event where community members work with park staff to create a snapshot of the variety of wildlife that can be found in local parks. To participate, community members will use an app to take pictures of plants, insects and animals to see what wildlife is present in the park on the day of the event and provide the park system with more information about local pollinators, which are essential to our ecosystem.
During our second annual Parks for Pollinators BioBlitz in September 2020, nearly 200 individuals pledged to help pollinators and learn how to host a BioBlitz. Events were organized from coast to coast, with 24 states represented from Alaska to Florida, and a total of 57 park and recreation agencies participating. These groups recorded nearly 19,500 observations, documenting thousands of species of both pollinators and pollinator-supporting plants. More than 2,300 people participated in the national BioBlitz to record these findings, and more than 3,000 experts helped identify the findings using iNaturalist. You can check out the results here — you can even see what pollinators were found near you!
Why Host an Event?
Hosting a Parks for Pollinators BioBlitz event allows your community to see how many pollinators and pollinator-friendly plants they can find. You can even make a competition out of it to see who can find the most species. The results of all the local BioBlitz events will be incorporated into the national campaign to show how parks across the country are supporting pollinators in their local spaces.
Your agency can use that data from the event to create an inventory of the species (pollinator and plants) found in your local parks. This can be a valuable tool to better manage your open spaces and help you create your future management plans. You can also engage a whole new group of volunteers and future park ambassadors! Read about the possibilities here.
This is a great opportunity to engage your community members in a community science event while promoting pollinator awareness and education.
How Does it Work?
The Parks for Pollinators BioBlitz is hosted on iNaturalist. Park and recreation agencies who participate will create a local campaign under NRPA's national Parks for Pollinators BioBlitz campaign. Instructions for how to do this are included in the BioBlitz toolkit you will receive after signing up.|
Northern Region — BioBlitz iNaturalist | Southern Region — BioBlitz iNaturalist
Western Region — BioBlitz iNaturalist | Mid-Western Region — BioBlitz iNaturalist
11.24.21
Parks and Recreation Update
11.24.21
Public Communication and Outreach
11.24.21
Public Communication and Outreach