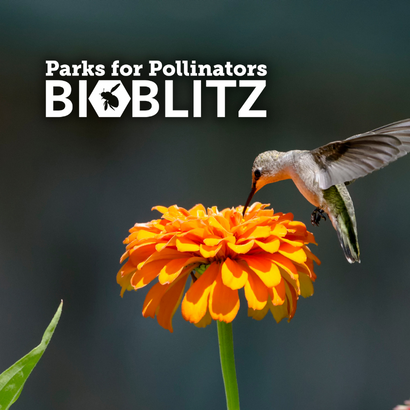 The countdown to September's BioBlitz is on! In only a few short weeks, communities across the country will celebrate our fourth annual Parks for Pollinators BioBlitz!
We are inviting you and your community to join us in this national campaign to get people out to parks and raise awareness and education about the importance of pollinators. In addition to being a fun way to connect with the community, the data you collect captures a snapshot of the wildlife in your parks and across the country.
Plus, you'll be entered to win $1,000 or a prize pack from Scotts Miracle-Gro! Whether you've hosted a BioBlitz before or are considering doing it for the first time, we have made it easier than ever. These tips can help:
1. Identify a Plan
Nail down the most important parts and go from there. Where do you want to host it and how (in-person, virtual or both)?
2. Tie it Into an Event
Do you already host a weekly nature hike? Tie your BioBlitz into programming you already have scheduled to make it even easier.
3. Pick a Partner
Partner with a garden club, library or other local groups to draw an audience to your BioBlitz.
4. Make Your BioBlitz Accessible to All
Help users learn how to use iNaturalist, pick areas with accessible terrain, and promote the accessible features of your event.
5. Leverage Your Findings
Share your findings with the community to celebrate your success and use your data to make it a better place.
Feeling ready to host your BioBlitz? Here's how to get started:
Create and launch your BioBlitz on the iNaturalist platform and use our toolkit to help you! If this is your first time, create an account on iNaturalist and test it out so you feel comfortable with the platform.
Connect your project to the NRPA Parks for Pollinators National BioBlitz Campaign by emailing me the project name so we can add it to the national campaign.
Add nrpaparks4pollinators as an administrator on your page. This will be at the bottom of the setup page and titled Admin(s). If you have any questions regarding this, please contact me.
I hope you're just as excited for this year's Parks for Pollinators BioBlitz as I am! I can't wait to connect with you as you plan your community's event.
Michele White, CAE, IOM, (she/her) is an NRPA senior program manager.