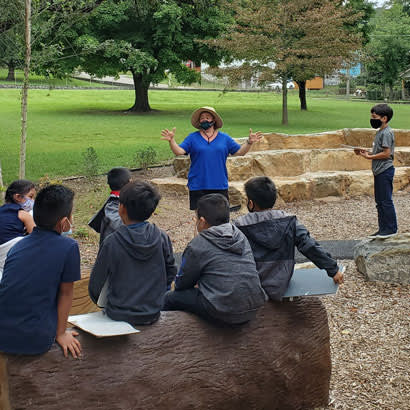 Pictured left: City of Chattanooga, Tennessee, hosted a BioBlitz with a local elementary school at East Lake Park. Photo by Sofia Rudakevych, outreach coordinator for City of Chattanooga Department of Parks & Outdoors.
During September 2021, NRPA hosted its third annual Parks for Pollinators BioBlitz. Last year we learned that the BioBlitz lent itself well as a virtual activity, in which anyone could participate. Our profession faced a new normal during the past year and a half and programs like the Parks for Pollinator BioBlitz proved extremely helpful in getting our communities outside to experience nature safely.
This year many continued to host virtual events, while some opted to host in-person events that aligned with their local health regulations. Regardless of the format, many agencies joined and encouraged their communities to explore parks and find what plants and pollinators live there. During the BioBlitz, community members use the iNaturalist mobile app to take pictures of local plants and wildlife. This not only lets participants safely explore their local parks and learn more about the species, but the information gathered also provides specific data on the species located in the parks — which can help park and recreation professionals manage those spaces for biological diversity, as well as building ecological resilience.
This year, nearly 220 park and recreation or like-minded professionals downloaded information on how to host a BioBlitz. Events were organized from coast to coast, with 25 states represented from Hawaii to New York, and a total of 73 park and recreation agencies and like-minded organizations participating. These groups recorded nearly 23,000 observations, documenting 7,900 different species of both pollinators and pollinator-supporting plants. In 2021, nearly 3,000 people participated in the national BioBlitz to record these findings and nearly 3,000 experts helped identify the findings using iNaturalist. And if you would like to check out what species were found or where projects were held, visit our website to see the regional iNaturalist pages with all our participating agencies and organizations.
Park and recreation professionals who participated found creative ways to partner with other groups and to engage the communities they serve. Examples included: hosting pollinator festivals tied to a larger conservation initiative in the community; partnering with the library to connect mobile library services with environmental educational programming like the BioBlitz; organizing a city-wide scavenger hunt focusing on key species with incentives for participation; working with local community groups to engage in the BioBlitz while building stronger partnerships to support pollinators in their community; and providing iPads, other technology, or printed field guides (based on species found by participated in last year's BioBlitz) to those without access to electronic tools to help ensure equity and allow everyone to participate. The list of innovative ideas goes on. We look forward to collecting and sharing stories from all the creative ways agencies participated this year!
Those that hosted a BioBlitz event in September had the chance to win one of three $1,000 prizes or one of three Scotts Miracle-Gro prize packs, to help with pollinator habitats or programs.
Congratulations to the three grand prize winners of the $1,000 prizes, St. Charles County Parks, Missouri, City of Fort Worth Park & Recreation Department, Texas, and City of Burlington Recreation and Parks, North Carolina, and three Scotts Miracle-Gro prize pack winners, Centre Region Parks & Recreation, Pennsylvania, DNR Outdoor Adventure Center, Detroit, Michigan, and City of Sarasota Parks & Recreation District, Florida.
Thank you to everyone who participated and hosted events in their communities. NRPA will be collecting stories, images and feedback from everyone who signed up for our 2021 BioBlitz. Please send us your best stuff — we would love to share your stories! We hope to see even more of you join us in a future Parks for Pollinators BioBlitz.
Note: The Parks for Pollinators campaign, hosted through a partnership between the National Recreation and Park Association (NRPA) and The Scotts Miracle-Gro Foundation, aims to raise public awareness of the pollinator crisis and encourage local action through public parks and recreation. NRPA and The Scotts Miracle-Gro Foundation believe parks play a key role in protecting and preserving pollinators and their habitats. Together, as part of the ScottsMiracle-Gro's GroMoreGood initiative, they are working to educate more children, families and communities about the importance of pollinators and what people can do to help.
Michele White, CAE, IOM, (she/her) is an NRPA program manager.