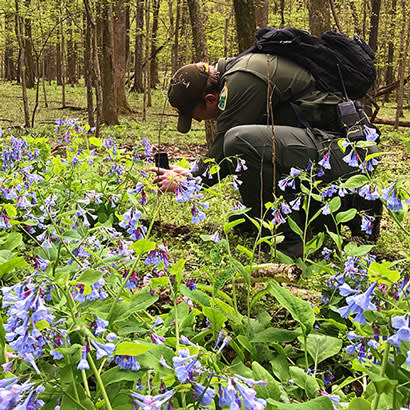 If I had to imagine four months ago what World Parks Week celebrations would have looked like, especially following the 50th anniversary of Earth Day, I would have envisioned our parks filled with people coming together to celebrate our greatest and most versatile public spaces. Even though our current reality prevents us from gathering, it doesn't stop us from finding new ways to enjoy nature and it certainly doesn't stop us from showing our respect for those who protect and maintain our natural spaces.
One thing the Coronavirus Disease 2019 (COVID-19) pandemic has taught us is that parks and recreation is a vital common good that is in high demand across the country. People everywhere are gravitating to parks to maintain both their physical and mental health. The pandemic also has drawn attention to the compassionate nature of our park and recreation professionals, as well as their seemingly endless supply of creative ideas for connecting communities to parks.
The profession has rallied around vulnerable populations in their communities, transforming their spaces into emergency shelters and COVID-19 testing sites, providing food and supplies, offering childcare and conducting wellness checks for individuals. Since many struggle to keep children occupied at home, some local park and recreation professionals are making activity boxes available for pick up, coordinating activities that can be conducted at home and even working to keep spirits up by turning to their hotlines to deliver some fun and humor.
Even when parks and recreation facilities have had to close to protect the public's health during the pandemic, those in the profession have turned to technology to continue offering essential services for their communities. I continuously hear stories about professionals using social media, phone calls and conference chats to keep in touch with their community and to help combat social isolation; sharing videos to help people stay active, to bring fun and education into homes, and to showcase the open spaces people cannot visit. Many have transformed their websites into portals for the community to find local health and wellness resources or educational activities.
Some examples of the inspirational, creative ways our park and recreation professionals are connecting their communities to parks include:
Miami County Park District in Ohio hosted a virtual Earth Day campout with tips on setting up tents or other camping opportunities and building campfires, encouraging individuals to host their own campouts at home.
Baltimore City Recreation & Parks in Maryland is supplied tips from their horticulturalist on growing gardens.
BREC in East Baton Rouge Parish launched a two-month virtual BioBlitz to encourage community members to connect with nature.
World Parks Week offers us a chance to recognize how critical parks and recreation is for our quality of life.
Join the World Parks Week conversation by sharing your favorite park and recreation story or one of the ways you are staying connected to your favorite parks during the pandemic by using #NatureNeverCloses.
Learn more about World Parks Week, an initiative of World Urban Parks.
Pictured above: A ranger at Radnor Lake State Park in Tennessee capturing photos of the wildflowers to share with their social media followers and provide education on the different wildflowers that are found in their park. Photo courtesy of Tennessee State Parks.
Kristine Stratton is NRPA's President and CEO.