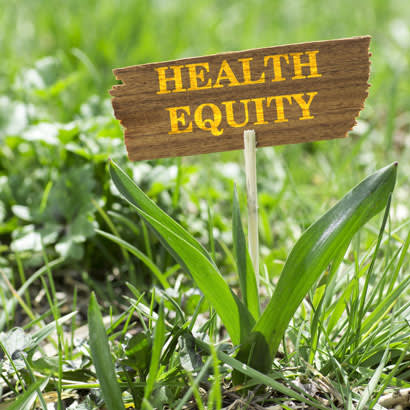 It's been nearly three months since the Centers for Disease Control and Prevention (CDC) confirmed the first case of the 2019 novel coronavirus disease (COVID-19) in the United States. Since that time, we've seen the escalating impact of the pandemic play out in our day to day lives and significant loss of life in communities across the country and around the world. In an effort to "flatten the curve" and ensure the nation's healthcare infrastructure can withstand the greater need for lifesaving treatment, stay-at-home orders have been issued in nearly every state to slow the spread, shuttering schools and businesses, skyrocketing unemployment claims, and creating even greater concerns for households and communities that were already struggling prior to the pandemic.
Inequitable Impact of COVID-19
While COVID-19 has impacted each one of us, it's well known that certain populations have been more severely affected — people aged 65+, people experiencing homelessness, and people with underlying chronic diseases including diabetes, obesity, asthma and heart disease. These are not the only groups at a higher risk of being impacted by COVID-19, though. The pandemic has disproportionately impacted people of color, low-income and rural communities, indigenous people, low-wage workers, people with disabilities, people without documentation, and other historically marginalized and underserved populations, resulting in an increased risk of exposure, increased rates of infection, hospitalization, mortality and significantly more negative impacts to daily life.
There are many contributing factors to this disproportionate impact. These groups are more likely to be impacted by the deep-rooted history of unjust policies, practices and biases that have created barriers in access to quality housing, job and educational opportunities, healthcare, healthy foods, and safe neighborhoods — including access to quality parks and recreation opportunities. These factors continue to widen the opportunity gap and contribute to significant disparities in health and socio-economic outcomes, including increased rates of pre-existing conditions and chronic disease, resulting in more severe reactions to the virus.
According to the U.S. Bureau of Labor Statistics, fewer than twenty percent of Black and Hispanic workers have positions where they can work from home. Black and Hispanic workers are concentrated in more public-facing jobs working in mass transit, healthcare, retail, agriculture and service industries — where physical distancing is nearly impossible — and hold positions that are classified as "essential," with little or no paid sick leave. Additionally, many low-wage workers are experiencing more dire concerns around accessing food, supplies, basic necessities and paying bills, leaving them with no other option but to go to work. More sobering is the fact that many low-income workers (particularly immigrants and people of color) have been furloughed or laid off, and the challenge to obtain necessities is only further increased.
Further, barriers to healthcare access and insurance, and underrepresentation of these groups in healthcare, public health and local government leadership result in additional challenges. For these reasons, and many others, underserved and underrepresented communities are at a greater risk of suffering from more detrimental impacts on health, economic and social outcomes attributed to the COVID-19 pandemic.
Embedding Equity into Parks and Recreation
Lately, there has been a lot of talk in every sector, including the park and recreation profession, about "reopening America" to stimulate the economy, get people back to work and return to some sense of normalcy. While the strong desire to get back to serving the community in as many ways possible is a testament to the passion and unwavering spirit of park and recreation professionals, there is also the stark reality that there are many people and many communities struggling to get by day to day and are experiencing unfair adversities due to COVID-19.
In many communities, the profession has rallied around these groups, setting up emergency shelters, providing critical food and supplies, offering childcare to essential workers, and calling community members to check on them and make sure they have what they need to get by. Park and recreation professionals have been leaders in embedding a health equity approach in their responses to COVID-19 to meet immediate community needs. This work is critical and must continue, and as the profession begins plans to reopen spaces, facilities and programs in the coming months, this philosophy should inspire and guide the work.
Focus on Essential Needs and Services Now, and in the Future
There are a lot of questions about what a "new normal" will look like for the park and recreation profession. With the economic impact of the pandemic, one thing is certain — more people will need help and be reliant on community services and resources to make ends meet. What role will parks and recreation play in this? Parks and recreation can leverage its unique ability in serving as trusted gathering spaces to connect community members to essential programs, services and spaces that advance health equity, improve health outcomes and enhance quality of life.
Those essential services should be tailored to each community's needs but may include providing connections or enrollment assistance to social services and benefit programs like the Supplemental Nutrition Assistance Program (SNAP) or the Supplemental Nutrition Program for Women, Infants and Children (WIC). It may include establishing partnerships with healthcare providers to conduct health screenings and provide health literacy. It may include implementing chronic disease prevention programming, nutrition education, standing up food distribution centers, or training staff on mental health first aid and trauma-informed care practices. There will be a greater need and demand for these types of health and social services in every community, and parks and recreation should be a key part of this effort.
Examine Agency Practices and Policies to Make Equity the Focus
COVID-19 has provided an opportunity for the park and recreation profession to reassess existing practices and policies with an equity lens. From master plans and capital projects to out-of-school time and older adult programs, down to staff hiring and training. The pandemic, and the reorganization of local government budgets that will follow, presents an opportunity to prioritize resources based on community need and lack of historical investment. It is important to assess how these practices and policies affect both staff and the community.
Are benefits equitable across the socioeconomic spectrum of employees? Are working conditions conducive to healthy staff? What measures will ensure that those most vulnerable are able to equitably access the benefits of parks and recreation without limitations? Equity is at the core of our work to better communities and improves health, environmental and social outcomes — and quality of life — but it requires systems-wide changes, prioritization of resources and our most vulnerable populations, and investments to meet these goals.
Consider How and When Information and Services are Delivered
Over the last month, park and recreation professionals across the country have created and implemented innovative strategies to keep programming alive and engage with community members. Leveraging technology and social media, many professionals have launched virtual recreation centers, cooking classes, fitness programs and even trivia nights. The creativity of the field and their ability to put these ideas into action quickly and effectively has been inspiring. Virtual programming is here to stay, and there will probably be more demand for telehealth and "tele-recreation" services in the future. That said, there are many people who may need these services or want to participate but can't for a variety of reasons, including language barriers, accessibility challenges, lack of broadband or access to digital or online services, etc.
Programming needs to consider the individuals at the center of it and ensure they have access and the ability to benefit from it. This may include translating marketing and communications materials into the main languages spoken in the community, providing information packets rather than relying on social media to reach those who do not have internet access or have difficulty navigating online services, ensuring resources are accessible by people with disabilities or investing in closed captioning and sign language translation services.
Other considerations when designing inclusive programming — particularly through virtual platforms — include ensuring the message being delivered is clear to everyone. When marketing programs, share the format of the event clearly. For example, is the event a discussion or a presentation? Are there materials that can be shared beforehand so attendees can follow along? Can you share the length and agenda of the event so participants can plan around their need to take breaks? If the event uses an online platform, will there be a dial-in number for those who don't have reliable internet access? Think about describing an image that's showing on a screen, rather than saying "as you can see on the screen."
If you're unsure about providing inclusive access to your virtual programs, consider the Inclusive Design Principles: provide comparable experience; consider situation; be consistent; give control; offer choice; prioritize content; add value.
There have been many lessons learned through the COVID-19 pandemic, and many more that are yet to come. But, the lesson on equity may be the most important and critical learning we can take away from this, and we should make every effort to embed this lesson into our work now and in the future.
To learn more about how park and recreation professionals are supporting the needs of the most vulnerable by providing essential services within their communities, join us for a free webinar on Thursday, April 30 at 2 p.m. EDT.
For more information about NRPA's response to COVID-19, as well as available resources for park and recreation professionals, please see our Coronavirus Disease 2019 (COVID-19) webpage.
If you have any questions or would like to share how your agency is responding to the COVID-19 pandemic, please reach out to Allison Colman, NRPA's Director of Health.