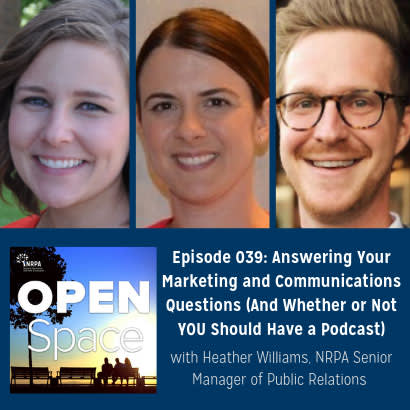 This month, NRPA has been tackling all things related to marketing and communications. Our May issue of Parks & Recreation magazine was filled with articles and tips about branding your park and recreation agency, how to master Facebook ads, and the importance of raising awareness about the great work you do. We also hosted a webinar tackling the latest trends in media and public relations.
We got a lot of really great questions during that webinar and it sparked some really robust conversation, so we wanted to dedicate this episode of Open Space Radio to taking a deeper dive into some of those questions alongside our friend, colleague and NRPA's Senior Manager of Public Relations, Heather Williams.
Tune in to the episode below to hear us discuss some common questions such as:
What content should I share on LinkedIn versus Facebook and Instagram?
With limited time and resources, do you feel a podcast is a good use of those resources?
Should I be concerned about copyright infringement when creating memes?
Is a Twitter profile like Denny's effective?
How many times per day should I post on Facebook?
How do I get my marketing and communications team on board with a social media need?
Links to other helpful resources we talk about in this episode:
Listen to the episode for the full story.