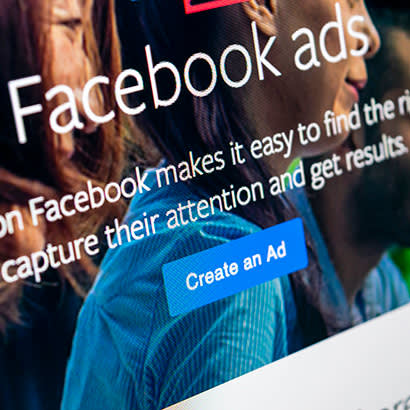 Advertising via TV, radio and print publications, while effective, can take a lot of resources. You need creative assets, industry knowledge and money to get an ad campaign up and running. You also have to have processes in place to make sure you can determine the success of those ads.
Alternatively, to get a social media ad up and running, you simply need money — and not a lot of it. Facebook's minimum ad spend is $1 per day (although certain factors can cause Facebook to set a total minimum spend). Essentially, if you can create a Facebook post and provide a credit card number, you can create an ad targeted to people you want to reach.
The big benefit of the Facebook Ads platform is its scalability. From "boosting" a Facebook post to a full-blown, mixed media ad campaign complete with conversion tracking and lead generation, there's not much you CAN'T do.
Things to Consider in 2019
Facebook certainly didn't come away unscathed from the data privacy issues that landed its CEO, Mark Zuckerberg, in a congressional hearing last year. Facebook is working hard to rebuild trust with its consumers. Part of that trust building includes updates to the Facebook Ads platform, such as having to disclose any partners associated with an ad and longer review times on ad sets.
In addition, the ease and targeting capabilities of Facebook Ads means there is a significant number of companies and organizations using the platform. Take a scroll through your own Facebook timeline and it won't take long to find several ads. Facebook users have become savvier and ad fatigue can be an issue.
Facebook Ads and Parks and Recreation
So, are Facebook Ads still worth it? Absolutely. No other platform allows you to precisely target the people you want to reach in a relatively simple and inexpensive manner. Many park and recreation agencies have used Facebook Ads in some form or another, but the level of sophistication in its advertising varies drastically. To truly make the most of the platform, there are some things you want to keep in mind:
Start small and take baby steps. The easiest thing you can do is simply "boost" one of your current Facebook posts. This will deliver your Facebook post to more of your followers than it would normally reach. The next step might be to create a simple campaign (multiple ads to one or more target audiences) within the Facebook Ads Manager platform. Facebook Ads Manager can seem intimidating at first, however, sources like Social Media Examiner and Facebook's own help website have easy-to-follow tutorials for whatever type of campaign you want to launch.
Find your target audiences. The real benefit of Facebook Ads is the ability to target your messages to the people you want to reach. While targeting your current Facebook page followers can be beneficial, Facebook's audience tools allow you to target people based on age, interests, location, marital status and much, much more. It's worth poking around in the audience builder to see what is possible. Many park and recreation agencies like to target ads to residents in their city or near a specific facility. You can narrow your audience more by targeting just dog owners in your city or parents with children under the age of 5, for example.
Create a Facebook Business Manager account. Creating this account gives you access to more features and reporting. Facebook Business Manager allows you to manage multiple assets in one place and control user access and permissions. To get started, go to the Facebook Business Manager site. Keep in mind that once you link your Facebook page to a Business Manager account, you'll use the business platform to manage your standard posts, as well as your ads.
Use video and use it creatively. Facebook ads that use video perform better and are likely to reach more people. When it comes to video content, however, content matters. If your video looks and feels like an ad, people are going to skip over it. However, if your video is full of engaging, useful content, people will be more apt to pay attention and follow through with your call to action. You don't have to have a full video crew to create good content, though — Facebooks Ads Manager has a video builder included in its ad creation tool. At the time of publishing, Facebook Ads favor vertical or square videos optimized for mobile.
Experiment, but track. The Facebook Ads platform was made for experimentation. It not only offers built-in A/B test models, but also encourages creating multiple versions of an ad to see which performs best. You set your budget at the beginning of the process, so you can create as many individual ads as you like within that campaign and set budget. The important thing is to track what ads work best and try to see if patterns develop over time.
Examples of Agencies Using Facebook Ads
As previously mentioned, many park and recreation agencies are already using Facebook Ads. Canton Leisure Services in Michigan, for example, is using Facebook ads to promote its mother-son dance and its youth-led peace walk. Tualatin Hills Park and Recreation District in Oregon is using Facebook ads to promote summer registration for its camps and programs.
With a little research and experimentation, you too, can use Facebook Ads to help grow your programs, reach new audiences and much more.
What is your agency's experience with Facebook Ads?
Have never used them
Have boosted posts here and there
Have put together an ad campaign one or more times
I don't know
Go to NRPA Connect, log in and take our Facebook Ads poll on the homepage to let us know where you are at in the process. You must be logged in to see poll.
Roxanne Sutton is NRPA's Director of Communications.