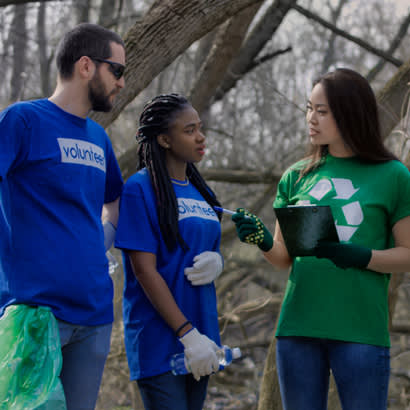 ---
Fast Facts
Title and Opportunity Number: Fiscal Year (FY) 2023 Volunteer Generation Fund #AC-03-18-23
Funding Source: AmeriCorps
Eligibility: City or township governments, independent school districts, nonprofits (with and without 501(c)(3) status), public/state-controlled institutions of higher education, private institutions of education, state governments, Native American tribal governments, County governments
Funds Available: $8.558 million, with awards ranging from $100,000 to $1,000,000
Application Deadline: May 16, 2023
BE AWARE: This award is issued on a cost reimbursement basis and will require a cost match which can be cash or in-kind matching. Cost matching increases each year of the grant funding: 20 percent in year one, 30 percent in year two, 40 percent in year three, and 50 percent in year 4.
Why: Volunteers can provide vital services to parks and recreation agencies and help fill in gaps left by funding, time, and staffing. Improving management practices can result in higher rates of recruitment and retention of volunteers. With three in four adults seeking community volunteer opportunities, improving your management practices can help you tap into this resource!
*The Opportunity Number is unique to each grant and can help you search for the grant on grants.gov.
---
Grant Summary
The goal of this grant is to support organizations in increasing their volunteer recruitment and retention through management practices. By supporting volunteer management practices, AmeriCorps aims to expand volunteering, strengthen the capacity of volunteer connector organizations to recruit and retain skill-based volunteers, and develop strategies to effectively solve community problems.
Parks and recreation agencies strengthen their communities through the programs they offer, volunteers enable agencies to provide more opportunities for community members to engage and thrive. AmeriCorps aims to prioritize programs that place emphasis on the following:
Removing barriers to engage volunteers from historically underrepresented areas (ex. BIPOC, LGBTQ+, Veteran and military families, rural areas, persons with disabilities)
High-impact tutoring, mentoring, or other out-of-school programs supporting students' mental health, academic success, and overall well being
Advancing justice and equality in areas such as education, rural communities, access to food and healthcare, workforce development, elder justice, independent living, and removing racial inequities
Activities countering hate-fueled violence in line with the United We Stand Summit
Applicants receiving funding through this grant may directly utilize the award or subgrant to community-based entities.
Case Studies and Examples
City of Raleigh Parks, Recreation, and Cultural Resources
The City of Raleigh Parks, Recreation, and Cultural Resources utilizes volunteers to help implement a vast number of projects to improve their community. Before COVID-19, this department was managing on average 13,000 volunteers a year and peaking at 16,000 in 2018, but like many others, saw that number drop throughout the pandemic. After re-assessing their management system to ensure quick communication, and the need to adapt to pandemic safety requirements, the department began utilizing a new management system. Through this system their team can streamline volunteer sign-up and communications, automatically track volunteer hours and accomplishments, track paperwork/training, and customize as needed to each unique project.
Improving their management system has enabled them to rebuild their volunteer base to an average of 10,000 volunteers a year! Additionally, the city of Raleigh Parks, Recreation, and Cultural Resources is able to implement the City of Raleigh Parks Conservation Corps Initiative, which expands staffing capacity and provides a pipeline for youth in conservation and related fields.
This initiative utilizes a mix of AmeriCorps funded programs (AmeriCorps NCCC, American Conservation Experience, Conservation Corps NC Summer Youth Conservation Corps, CCNC Dix Park Youth Conservation Corps) and other programs (Neighborhood Ecology Corps and Partnership Raleigh Conservation Interns) to engage community members from middle school through the age of 26 in conservation efforts and job training opportunities.
Great Rivers Greenway
Great Rivers Greenway works closely with many municipalities and partners throughout St. Louis to build and maintain their regional, three-county greenway system. Volunteers are crucial in supporting the capacity of their partners, implementing the conservation efforts needed to protect habitat along the trails and engaging community members to steward and take ownership of local ecosystems.
Great Rivers Greenway has worked to improve their volunteer management system by unifying recruitment policies and procedures, digitizing and establishing uniform volunteer forms, hiring two new staff members to support volunteering and improving communication. This process has enabled them to improve awareness of volunteer opportunities, meet the needs of different departments, and improve the overall experience of volunteers. For example, by providing monthly newsletters to volunteers involved in their Ambassadors program, they have increased the number of active ambassadors which has resulted in higher outreach to community members at different events and programs.
Additionally, Great Rivers Greenway partners with the AmeriCorps St. Louis program to further conservation efforts. Through this partnership, Great Rivers Greenway and their partners can utilize AmeriCorps volunteers with specialized training and certifications to improve their community and work alongside community volunteers. During one of their Confluence Trash Bash events, AmeriCorps volunteers hosted community volunteers at the Greenwood Cemetery, established in 1874 as the first commercial non-sectarian cemetery for African Americans in St. Louis. This event not only helped restore an important historic area, but resulted in further grant funding and an award acknowledging their work to remove invasives, restore headstones, and improve infrastructure.
Grant Contact Information
For more information, email VolunteerGeneration@cns.gov.
For technical questions or problems with eGrants, please call 800-942-2677 and select "option 3." Have your application ID, organization name, and the name of the Notice to which the organization is applying ready.
Additional Resources
Elyse Gentile (she/her) is the executive branch specialist at NRPA.