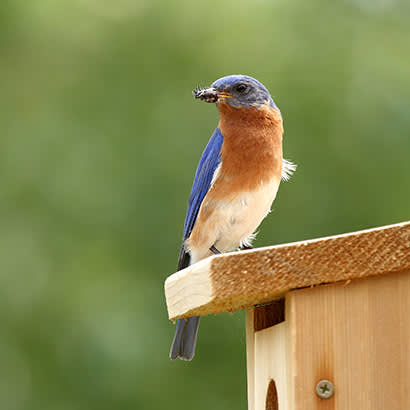 If you ever visit the NRPA headquarters in Ashburn, Virginia, located within West Brambleton Park, a 600-acre Northern Virginia Regional Park Authority park, you will be delighted by the number of bluebirds, tree swallows, chickadees, house wrens and other songbirds that take up residence in a series of nest boxes strategically placed around the headquarters building, parking lot and pond. These valuable songbirds can be seen almost any time of the day during the nesting season.
This fulsome number of cavity-nesting songbirds is due in large part to the efforts of John Whisler, a volunteer from the local community, who has taken over monitoring of a bluebird nest box "trail" at NRPA. He faithfully monitors the 12 nest boxes every week throughout the nesting season, repairing or replacing any boxes that need it. Whisler checks on the number of the eggs and health of the fledglings in each nest, records the data and evicts invasive non-native species, such as house sparrows, that will aggressively drive bluebirds and tree swallows away from the nests and even kill their hatchlings in order to build their own nests.
A Dedication to Bluebirds
Before moving to Ashburn, Virginia, several years ago, Whisler lived in Nebraska for 28 years and worked all over the world as a professional engineer. "I became interested in wildlife when I lived in Nebraska," he says. "I enjoyed watching deer, coyotes and birds. I noticed bluebird boxes near where I lived, and eventually got to know the bluebird coordinator of the local chapter of the North American Bluebird Society. I put up four boxes on my 3-acre property and had great success. I monitored my boxes for 10 years. When I moved to Ashburn, I put up a box in my backyard three years ago and have had two sets of bluebirds hatch every year since." Whisler sent a picture of his box at home, which he proudly notes had six bluebird eggs in it at the end of April.
Karla Etten, a member of the nonprofit conservation group Loudoun Wildlife Conservancy and bluebird program coordinator for Loudoun County, connected Whisler with NRPA staff in 2016. He began monitoring a trail, first installed by a local Eagle scout, and it was a perfect match. "I know John to be a brilliant engineer, an avid sportsman and someone who had years of experience monitoring bluebirds in Nebraska," says Etten. "I was absolutely delighted he could take on the NRPA bluebird trail. He has done some retrofits, added new boxes and provided maintenance each year. Based on John's advice, I have been incorporating some of his suggestions on other bluebird trails in Loudoun County."
Whisler's dedication to monitoring the NRPA bluebird trail is not unique. Tens of thousands of volunteers across the country assist park and recreation agencies through citizen science programs and wildlife habitat projects. One of the largest citizen science and volunteer wildlife conservation programs in parks is overseen by the Texas Parks and Wildlife Department (TPWD). According to Kris Shipman, TPWD's volunteer program manager, they use volunteers for seasonal bird counts, to create pollinator gardens using native plants, to help fisheries biologists with collecting ecosystem data and to provide educational outreach to underserved youth. Overall, we have around 5,000 volunteers who participate in citizen science programs. Last year, they gave 634,817 hours! There is an opportunity for everyone to participate," Shipman says.
Project and Program Size Doesn't Matter
Park and recreation agencies have had a long tradition of enlisting volunteers to monitor wildlife and to create and maintain habitat in parks. This tradition goes back to the earliest days of parks, refuges and protected natural areas.
Citizen science programs don't need to be large to be successful. Cathy Meyer, park naturalist of Monroe County, Indiana, talks about the programs they offer for citizen science volunteers. Their park system is only 400 acres in size with a half-dozen full-time and a dozen part-time employees. "We are short on staff and funds," she says. "There is a lot we would like to do that we simply don't have the time or budget to do, and with volunteers we can. Although we would like more staff, we just don't have the budget to hire additional staff. Our volunteers are ambassadors for the parks when they are out there.
"We have trained people in FrogWatch USA, Hoosier RiverWatch, Adopt-a-Stream, the Great Backyard Bird Count, and we publicize others during the Indiana Master Naturalist classes we sponsor," says Meyers. Susan Brackney, a volunteer with Hoosier Upland Frog Watchers, which formed under FrogWatch USA and is sponsored by the county park and rec department, wrote about her experiences in Bloom Magazine, a regional publication in Bloomington. She shares that the three different calls for 15 species of frogs and toads are difficult to memorize, but when she goes out in the spring and finds her log to sit on, she "hopes for a frog-filled night."
Whisler speaks of the importance of citizen science, no matter how small or seemingly insignificant the contribution. "Without citizen science, species could be lost. Keeping track of populations, range, density and other information is critically important to know how we are helping or harming wildlife species. If you don't have those sets of eyes on wildlife, vital information will be lacking. Citizen science is imperative to inform scientific knowledge."
When asked what he would say to others about how being a citizen scientist makes him feel and what satisfaction he gets out of it, John explains: "You can start small, in your own yard. My friend had never done it; he now monitors two full-length bluebird trails. See if the excitement catches you. You can have the satisfaction that you are doing something to benefit nature and the Earth. I am grateful to have this chance to do this. It makes me happy, and it makes my wife happy. She looks forward to going out to check the boxes with me every week."
Richard J. Dolesh is NRPA's Vice President of Strategic Initiatives.