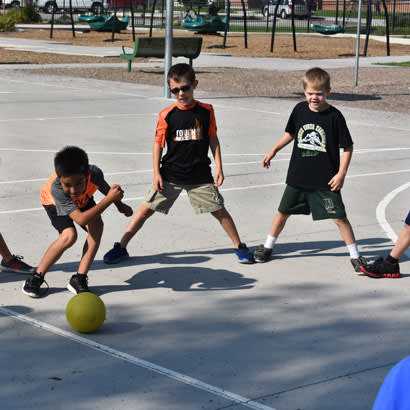 The City of Monte Vista, Colorado, is a town of about 4,300 residents. There's a town to the east, Alamosa, that's a little bigger, and a town to the west, Del Norte, that's a little smaller. But nestled in between is Monte Vista, a town that has experienced some hardships, but is making its own magic.
A few years ago, the City of Monte Vista had a thriving Boys and Girls Club, but eventually the decision was made to move the club to the larger Alamosa and serve the San Luis Valley from there. But at the same time, Monte Vista was facing a gang and drug problem — so much so that gang members were waiting outside of schools to recruit kids on their walks home. So, the city decided an afterschool program was an important piece of keeping kids safe and rallied together to launch the Monte Vista Kids Connection.
Community members worked together to provide places for the program to meet – originally in the city hall basement, and most recently moving into a refurbished auto garage, allowing them the space they need to grow and flourish.
Today, Monte Vista Kids Connection serves more than 70 kids ranging from age 3 to 18 through a summer and afterschool program. It's clear to see the love the kids have for the program leaders. During our site visit this past August, kids rushed in first thing in the morning to hug each of the leaders, eager to share stories from the time spent outside the program.
Parents are also thrilled with the program, because it gives kids a safe space to go during the critical out-of-school time hours while parents are working. They don't need to worry about their kids hanging out alone at home or getting involved in unhealthy activities after school. Plus, they can feel good about the fact that their kids are receiving two healthy meals and a snack, relieving some of the stress from the parents.
Each day, students are served a healthy breakfast, then spend the morning rotating through various activities in appropriate age groups, including organized outdoor physical activity, indoor reading time, nutrition education and quiet free time. Midday, lunch is served, then the fun continues. Outdoor time, indoor relay races, more nutrition education and quiet free time before it's time to go home.
The day we visited, all the kids did a taste test of one of August's Foods of the Month, summer squash. It was fun to see the kids claim that they didn't like squash and they didn't want to try it, but completely change their minds after that first bite. What made the test even more fun was that the squash was grown in Kids Connection's own plot in the Monte Vista community garden. During the summer and afterschool programs, the kids 12 years old and up are responsible for planting, maintaining and helping to harvest the goodies grown in their plot. A volunteer then sells the produce at the local farmers market and donates the proceeds back to the out-of-school time program.
Monte Vista Kids Connection was one of ten rural park and recreation agencies who received grant funds from the Walmart Foundation and NRPA this year to increase access to healthy food and nutrition education in their out-of-school-time programs. This cohort of agencies in Colorado, Kansas and Mississippi will provide insight into the barriers rural communities face in providing meals and services to children, as well as the assets these communities can leverage to improve health outcomes. Monte Vista is using its Commit to Health funds to create more storage in their facility, including organization bins, shelving units, a freezer and serving trays to make meal prep and meal time more efficient. Monte Vista also used funds to purchase a bus, which is used to take kids on field trips and to their plot in the community garden.
Monte Vista is a great example of rural resiliency. The community banded together to fill a gap in needs, and the dedicated staff and volunteers of Kids Connection are working hard every day to make sure kids have a safe space to be, and are growing into healthy, thriving young adults.
Maureen Acquino is a Program Specialist for NRPA.