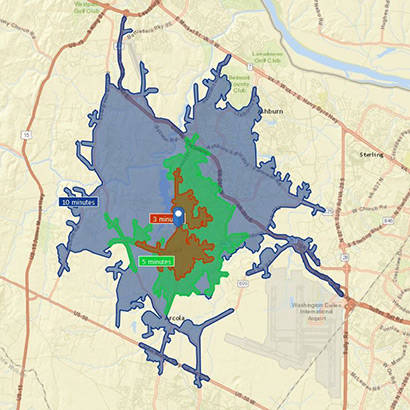 How well do you know the residents who use--or potentially may use--your agency's park and recreation facilities? With the NRPA Facility Market Report: Community Profile and the new NRPA Facility Market Report: Health & Wellness, your agency now has a tool that helps it better understand your community's needs so you can tailor programming and offerings to meet those needs.
Tailored Insights About Your Facility and Community
Market Reports offer key data and insights about the market served by your agency's facilities. Your agency gains a greater understanding of the residents served by a park, aquatic center, recreation center or any other facility, with a particular focus on their habits and interests. Review a Community Profile sample. Explore a Health & Wellness sample.
Demographics & Forecasts: Learn about the size of the market, age trends, exercise habits, recreation spending and social media usage of the population served by your facility.
Health Overview: Request a Health and Wellness report to explore health characteristics such as dietary habits, prescription drug use, tobacco use, and physical activity participation rates.
Map: See the size of area served (or could be served) by your facility, based on a driving or walking time that you set (e.g., 10-minute walk time or 5-,10-,15- or 30-minute drive time).
Request a Facility Market Report
Request an NRPA Facility Market Report for Any Park Facility Type
The NRPA Research team can create an NRPA Facility Market Report for any of your agency's park and recreation facilities, whether it is open today or is in the planning stage:
Regional Parks, Community Parks, Pocket Parks
Rectangular or Diamond Fields, Basketball or Tennis Courts
Aquatic Centers
Recreation Centers, Senior Centers
Golf Courses
A future park site or facility not yet developed
NRPA Facility Market Reports arm your agency with vital market data that help you:
Identify the optimal programming to increase usage and satisfaction with your agency's offerings
Identify opportunities for new potential markets that your agency can serve

Create targeted programming based on the special health concerns within your community.

Develop strategic plans on capital investments based on potential markets served by your agency
How Do You Order an NRPA Facility Market Report?
Every NRPA Premier member agency gets an allotment of NRPA Facility Market Reports each year. All you need is your agency name, your agency email address and the street address of the facility you want analyzed.
Request an NRPA Facility Market Report Today!
Ready For More Data? Check out mySidewalk Data Report Templates
NRPA has partnered with mySidewalk to build data templates that enable NRPA members to instantly generate interactive local reports for their communities. These templates allow anyone to answer questions using data and are being designed specifically with park and recreation professionals in mind. Every template includes demographic and socioeconomic data mapped alongside local parks and trails across the country.
Learn more about mySidewalk Data Report Templates Today!