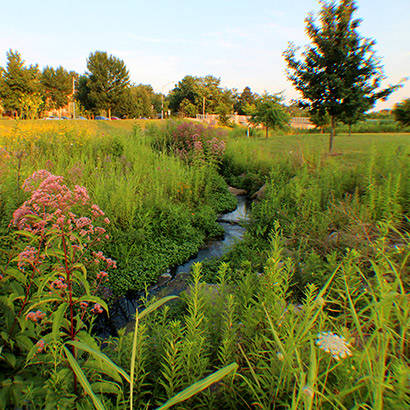 Protecting open space, connecting people to nature, and engaging communities in conservation practices.
Local park and recreation agencies play a vital role in the protection of our environment through green infrastructure, conservation of public lands, providing wildlife habitat and more. In a world where people are increasingly disconnected to nature, local parks also are essential in creating environmental stewards who will advocate for and protect our most precious public resources – our land, water, trees, open spaces and wildlife.
NRPA works with local park and recreation agencies to provide tools, resources and technical assistance to better connect communities to nature and enhance sustainability through conservation practices within parks. Our areas of focus include promoting sustainable practices including green infrastructure and other strategies that address the effects of climate change, preserving wildlife, growing a next generation of environmental stewards, and supporting programs and policies that encourage a commitment to conservation.
Learn more about NRPA's other initiatives aimed at connecting communities to nature and preserving open space.
Conservation Resources
NRPA Report: Park and Recreation Sustainability Practices
Parks are key community stakeholders when it comes to addressing the effects of climate change. From protecting water resources via green infrastructure practices, to reducing urban heat island effect through city wide forest restoration - parks play a critical role in ensuring that our communities successfully adapt and thrive in light of a rapidly changing planet.






Conservation Poster
Parks play an important role in providing habitat for pollinator species across the country. But parks can't do it alone. Help us restore habitat for pollinators by learning which native plants are best for your area. Then, get outside and exercise your green thumb!
Download a PDF copy of our Conservation poster to display at your agency or share with the public.
Position Statements