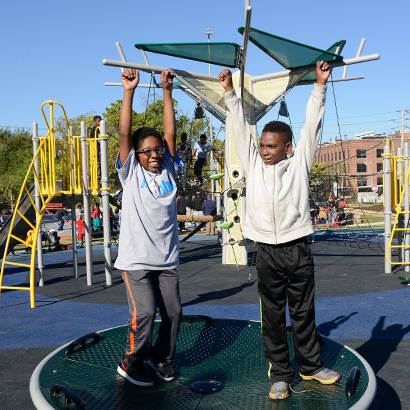 In 2016, NRPA partnered with Great Rivers Greenway, the regional parks and trails district in the St. Louis region, and the city of Wellston, Missouri to transform a vacant lot in to Trojan Park - a vibrant community park through NRPA's 2016 Parks Build Community initiative. NRPA's vision for the park was simple: Expand opportunities for residents of all ages to be active and enjoy each other's company. The ultimate goal was a dynamic gathering space to experience new ways to play. Family reunions, live music, pickup basketball or summer days on the splash pad are just some of the reasons this park will be a place where people come together.
This Parks Build Community project took place in conjunction with the 2016 NRPA Annual Conference in St. Louis, Missouri.
NRPA's Parks Build Community is a national program demonstrating the transformative value of parks on the health and vitality of communities throughout our country. The vision to build and revitalize parks as thriving gathering places for youth, families and adults is one shared by NRPA, its industry and nonprofit partners, as well as the thousands of park and recreation professionals who develop and maintain these treasured public places.
Thanks to the generous support of these companies, Trojan Park was transformed into a high quality and inviting public space.