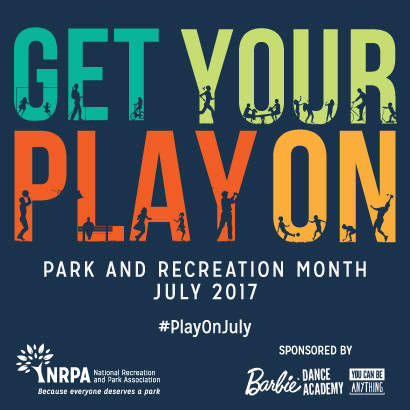 This toolkit is where you can find the materials you need to celebrate Park and Recreation Month at your agency.
This July, show your community members the importance of play and how much they can discover at their local parks and rec. Tell your community to Get Your Play On!
Not sure where to get started? Check out our "5 Easy Ways You Can Get Started with Park and Recreation Month" blog and video tutorial.

Official 2017 Park and Recreation Month Poster
This poster can be used in a number of ways to engage your community in your Park and Recreation Month activities. A few ideas:
Print out the poster and have your community take pictures with it
Hang it up at your Park and Recreation Month event locations
Hang it up in any and all of your facilities
Give it to your mayor or town council to hang in their offices
Hang it ALL OVER YOUR COMMUNITY!
As always, we love to see how you use the poster and other materials, so take lots of pictures and videos, and share them with us on social media using #PlayOnJuly. A hard copy of the poster will be available in the May 2017 print issue of Parks & Recreation magazine.
Download 8x11 poster with bleeds
Download 20x15 poster with bleeds
Play Infographic
Outreach Toolkit
The Park and Recreation month Outreach Toolkit provides all the tools you need to promote Park and Recreation Month in your community. The full toolkit contains a fact sheet, key messages, template media advisory, template press release, sample social media materials, template editorial story and tips on media outreach. We've also provided the template materials separately if you are only looking for one or two pieces.
Download Full Outreach Toolkit - PDF
Activity Sheets - NEW!
The past few years, we've received several requests for coloring sheets and activity pages to go along with Park and Recreation Month. Based on your feedback, we're providing just that!
Download the Activity Book PDF.

Graphics and Artwork
NRPA has supplied you with various graphics and artwork that you can use in your official 2017 Park and Recreation Month outreach. Use the logos and artwork on a variety of things – program guides, give away items, T-shirts – it's up to you! Keep coming back as we'll continue to update this space with new materials. To download graphics, right click on the image and choose "save as." Note: These graphics and materials are only to be used in Park and Recreation Month promotions in 2017. They are not to be used for other purposes.
Design Files
NRPA provides design files in Adobe Illustrator and .eps versions. To download a zip file with these materials, enter your information below. We may contact you with updates on Park and Recreation month, but we won't share your info and you can unsubscribe anytime.
Park and Recreation Month Logo
Use this image on any of your materials throughout July 2017 to show your support and participation. You can also use this as your profile photo or "avatar" on Facebook, Twitter and Instagram leading up to and during July 2017. Encourage your fans and followers to do the same!
Download large version of logo.

Download official Park and Recreation Month 2017 Brand Colors guide.


Web banner 650x80
Web banner 300x250
Web Tower Ad 160x600

Customizable Calendar
Use this customizable calendar to promote all of your Park and Recreation Month activities taking place in July. Add your information, print out and post/distribute within your community.
We've made customization easy for you – you can download a fillable PDF (24x36 inches).

Park and Recreation Month Proclamation
Have your local government officially declare July 2016 as Park and Recreation Month! Below is a PDF of the original 2009 declaration from the U.S. House of Representatives, and a template that you can customize and print on your office agency/government letterhead.
Park and Recreation Month Proclamation - HRES 288 IH

Park and Recreation Month Proclamation - Template

Tips for Proclaiming July as Park and Recreation Month
If you receive an official Proclamation, let us know!
Social Media Tools
The official hashtag for this year's Park and Recreation Month is #PlayOnJuly! Use it to let us know how you'll be celebrating and playing this July. Follow us to stay up to date on the latest about Park and Recreation Month and get tips, ideas and more!
Sample Social Media Posts
Coming soon!
Facebook Cover
Click here to open image in new tab. Right click and save.
Facebook
Connect with NRPA on Facebook for updates on Park and Recreation Month! Like us and post on our page to let us know what you'll be doing this July! Don't forget to link to us in your posts about Park and Recreation Month.
Twitter
Follow us on Twitter, @NRPA_News, for fun facts, updates and shout-outs! Tweet out what you're doing this July and don't forget to retweet us! We'll be giving shout outs leading up to and throughout the month of July! Use hashtag #PlayOnJuly
Instagram
Connect with NRPA on Instagram and be sure to tag any Park and Recreation Month photos with #PlayOnJuly so we can also connect with you and see all of the great things you're doing in July!
Pinterest
Pin with us on Pinterest and follow our boards. Use hashtag #PlayOnJuly