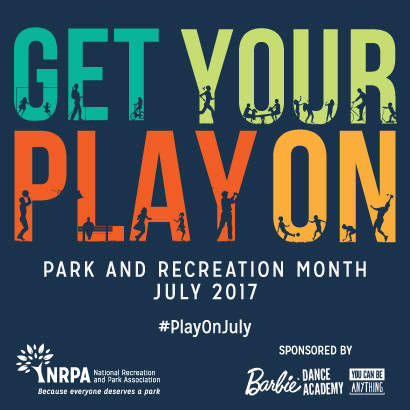 This July, we want you to discover the power of play and adventure. To see how you "Get Your Play On", we are challenging you to take #NRPAPlayChallenge every week this July. Head out to your nearest park or recreation center and show us how parks and play go hand in hand!
Each week has a different photo theme. You'll be able to submit your photo via this page, Facebook or by sharing the photo on Twitter and Instagram with #NRPAPlayChallenge and #PlayOnJuly.
We'll be awarding a Park and Recreation Month play prize package (valued at $250) weekly starting on July 10. Prize pack will include outdoor games, a gift card and other swag! Submit your photo following these weekly themes to win!
July 3-9: P is for Park! Show us how you get your play on at your local park!


July 10-16: L is for Learning! Show us how you combine learning and play!


July 17-23: A is for Advocacy! Show us how and why you advocate for parks!

You can share a photo of a park that's received federal funding and tag your senators or representatives; you can ask your representatives to support H.Res. 406, which designates July as Park and Rec Month; or you can simply share why you love your parks and tag any local and federal officials who should know about it!


July 24-30: Y is for YOU! Show us your favorite way to play at your local parks and rec!


How to Enter
Take a photo in your local or park or recreation area — make sure it follows the weekly theme.
Submit it via this page, Facebook, or by uploading to Twitter or Instagram with #NRPAPlayChallenge and #PlayOnJuly.
The winner will be chosen by a panel of esteemed judges. The photo that best demonstrates the theme will be dubbed the winner! NRPA will reach out to award the prize. Winners will be chosen July 10, 17, 24 and 31.


Please note, Park and Recreation Month is a family-friendly activity. Please no distasteful or vulgar photos. Photos are subject to review before posting to the gallery. Users may enter more than one photo per week into the contest, however, each entry submitted must be substantially different than all subsequent entries. Winners will be chose by a panel of esteemed judges. If a user is chosen as a winner, they are not eligible for future weekly prizes. Please refer to Official Rules for details on the contest and claiming prizes. Winners will be contacted via email or a direct message from NRPA on Instagram or Twitter and must accept the prize within 24 hours.


Incorporate the #NRPAPlayChallenge Contest into Your Activities
With parental permission if needed, take photos with your summer camp participants for each week's theme.
Use social media to challenge your community members to complete the weekly theme in your own park and recreation facilities.
Set up photo stations in your park and recreation facilities related to each week's theme. Include the hashtags #NRPAPlayChallenge and #PlayOnJuly!


Other Ways to Get Involved in Park and Recreation Month
There are lots of ways you can get involved with Park and Recreation Month — whether you're a park and recreation professional or park and recreation super fan! You can get involved by: