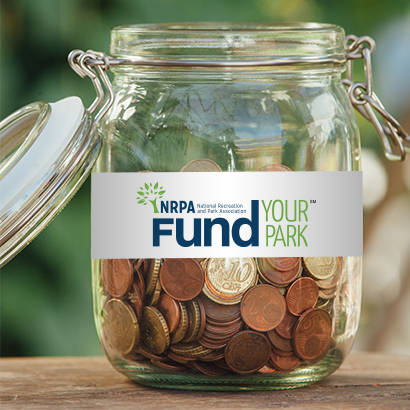 A new member benefit for NRPA members, Fund Your ParkSM is a crowdfunding platform designed exclusively for park and recreation agencies. Selected projects will be profiled on the platform for funding—whether it's for building a new playground or installing trail signs. Raising funds for local projects using the Fund Your Park platform engages loyal supporters and helps create new ones by allowing donors to share their experience with friends in just one click. It doesn't get any better than that!

Check Out New Projects here on July 25th, 2017.


What is crowdfunding?
Crowdfunding is the practice of funding a project or venture by raising many small amounts of money from a large number of people usually through the internet. For examples of crowdfunding platforms and campaign projects, visit Kickstarter or indiegogo. Fund Your Park is a platform for parks and recreation!
How you benefit
It's Free! Use of Fund Your Park is free to members and each campaign project retains any funds that are raised through Fund Your Park, even if you don't reach your funding goal. NRPA retains a 5 percent administration fee on all donations in order to support the site and administration cost.
Donations are tax deductible! All donations are processed by NRPA, a non-profit 501 (c) 3 organization, as charitable contributions- and therefore tax deductible.
Hands on Support! NRPA will provide the crowdfunding platform, help with crafting messages, and training on how to run your campaign.
Eligibility
The agency/organization must be a member of NRPA.
The agency/organization must be a local, municipal or regional governmental agency (e.g., park and recreation department) or non-profit organization working in partnership with a park and recreation agency (e.g., park foundation) with full authority to implement the proposed project.
Please review the application for other qualifications.
Browse our toolkit for more information. See examples of past projects.
Current campaigns
Application Launch: April 10, 2017
Applications Due: May 16, 2017
Agencies Selected: May 30, 2017
Campaigns Launch: July 25, 2017
Campaigns End: August 24, 2017
Fund Your Park Success Stories
The Fund Your Park projects don't stop when the campaign period ends. In fact, the campaign is often just the beginning of a great community project. Here are some examples of how Fund Your Park helped a project come to fruition.
News Coverage
Park Fundraising Site Makes It Easier To Raise Money For Local Community Projects
The Park Catalog
June 28, 2017
If you have any questions, please contact Dan Sanford, dsanford@nrpa.org or 703.858.2196.