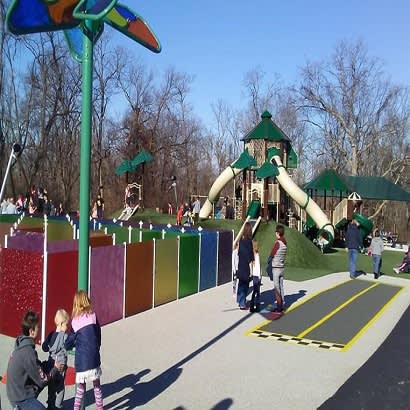 In 2017, Green Township, Ohio issued a request for proposals to create an accessible and stimulating playground at West Fork Park. University of Cincinnati professor Tina Stanton-Chapman and Eric Schmidt of Playground Equipment Services proposed a playground blueprint that was more versatile, exceeded accessibility guidelines, held children's interest for more than 30-minutes, did not appear to be a playground for children with disabilities, and was usable to all populations of children.
The duo's selected design was based on our prior research which found that caregivers and educational professionals were not satisfied with currently available playgrounds and believed children with disabilities could not socially participate on playgrounds due to inappropriateness for a given disability, a lack of interest in the playground equipment, safety concerns, and worries about bullying or teasing by peers.
They designed a playground that was appropriate for all ages and included eight play zones.
Zone 1 is an infant/toddler play area with two house structures.
Zone 2 is a musical instrument area with chimes that loudly vibrate for deaf individuals to experience music.
Zone 3 is sensory maze comprised of colorful, tactile panels representing the colors of the rainbow and placed on off-white pour-in-place surfacing. The pour-in-place surfacing provides for a colorful reflection of the panel colors when the sun is directly shining on the maze. The colorful panels have raised textures that allow children with sensory disabilities to "feel" their way through the maze.
Zone 4 is a turf hill that has two metal slides and two circular tunnels. The metal slides were specifically designed for children with cochlear implants who are not able to experience plastic slides due to static concerns, but still wish to slide. The tunnels are for children who become overstimulated from the sensory experiences and need an enclosure to decompress.
Zone 5 is a 14-foot mega tower for that provides children with a play experience that keeps them entertained for an extended period.
Zone 6 contains a zipline. While the mega tower and zipline meet the needed guidelines for accessibility purposes, our intention was to provide typical children an attraction that meets their needs. Prior research indicated that families who had a child with a disability and had a typical child wanted a playground that would hold the interest of all of their children.
The traditional swing set (Zone 7) includes a toddler swing and a therapeutic swing for children with disabilities who lack core strength.
The accelerator swing in Zone 8 allows a child with a physical disability to either sit in the center of the swing (if he or she has adequate core strength) or the child can lie down. The accelerator swing is large enough for other children to climb aboard with the child with a disability and build their social relationships.
Preliminary findings from studies of West Park, thus far, indicate that the overall playground exceeds community expectations, meets the needs of families who have children with disabilities, and the favorite zones are the sensory maze, the zipline, and the hill structure.
For more great ideas on inclusive playground design, visit the Parks for Inclusion resource library.