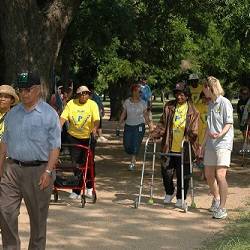 The Park District of Forest Park decided to implement the Walk with Ease (WWE) program to give their residents the opportunity to better their health through a structured program. Walk with Ease is an evidence-based, six-week exercise program developed by the Arthritis Foundation and designed and proven to reduce arthritic pain and improve overall health. While most of the participants in the Forest Park WWE program had other health concerns they were dealing with, they were also well aware of the risk of developing arthritis as a result of their other health concerns. By joining the program, participants took an active approach in reducing their risk of developing arthritic pain and addressing other health concerns.

One participant in particular, made huge strides throughout our program. When "Ken" began the program, he was pre-diabetic, severely overweight and had many other health related concerns. He could barely bend over, had difficulty walking even short distances and never took the stairs. We convinced Ken to join our program and also incorporated a FitBit into his program. From day one he took the lessons learned from the WWE program and began implementing them on a daily basis.

Ken started with making small changes at his work. He began walking from building to building instead of always taking a motor driven cart and is using the stairs instead of always taking the elevator. He first began by taking the stairs down one flight. As he became more comfortable with this, he then added in going up one flight at a time. He continues to walk from building to building daily at work.

Ken is also trying to eat healthier and adjusting his diet. In turn, he has seen some success in losing weight, something his doctor had highly recommend that he do. He has increased his flexibility and he is not out of breath when he walks throughout the day. The addition of the step counter into his particular program enables Ken to keep track of his steps and also has provided him with a very simple way to set goals each week. He continues to make strides each week as he works towards his own personal goal of shedding pounds and increasing his energy level.

Ken's story served as inspiration to several other participants in the program. Each week, others in the program saw Ken's energy level increase, and he relayed to others how each week it became less painful for him to use the stairs and walk more. His determination and his dedication were contagious. Other became tracking their steps. Participants started challenging each other to "walking wars". The highlight of each week was seeing who was able to put in the most time and steps in to the program outside of class.

The Park District of Forest Park is the only public recreational facility that services the residents of this town. It was important for us to provide an affordable program, but also one that would be attractive to people who did not want to join a gym but still wanted to increase their activity levels and make some healthy changes. Our location is also centrally located in town, making it accessible. We already have several marked walking paths on our campus and encouraged participants to utilize them on their off days from class. In six short weeks, the WWE program was not just a class participants attended it has become a way of life.