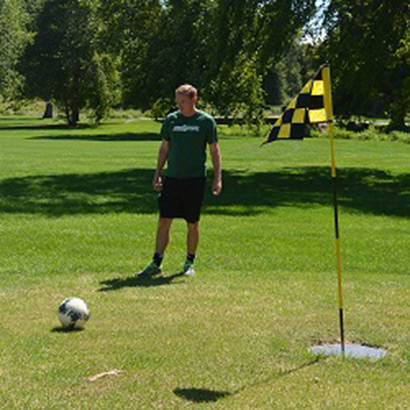 Nationwide, the golf industry is struggling. In 2013, only 14 new golf courses were opened across the Country while over 150 courses were closed. Over the last 8 years, this trend has been persistent—more courses are closing then opening, and more golfers leaving the game instead of joining. According to the National Golf Foundation, the industry has seen a decline of over 5 million players since the year 2,000. Local park and recreation agencies are not immune to these trends, with many agencies reporting declining numbers and course usage the last several years. One agency, the Decatur Park District, took a creative approach to this very problem in their community.

In response to declining golf rounds at its three public courses, the Decatur Park District introduced a new Short Course within their existing Scovill Golf Course. The Short Course is a fast-play, par 3 course. In addition to the new course, Decatur Park District also introduced some creative games feeding off of traditional gold. The park district now offers Hack Golf (15-inch holes and relaxed rules), Fling Golf (a combination of lacrosse and golf), and FootGolf (golf played with a soccer ball) in an effort to attract more players in 2015.

The U.S. FootGolf Association (USFGA) recently designed and certified an 18-hole course at Hickory Point to complement the popular and free 9-hole FootGolf course that was unveiled last fall. "With the declines in golf locally and nationwide, we realized we needed to change the traditions of the game to fit today's demographic," said Executive Director Bill Clevenger. "We've made a huge investment in facilities, and to make the best use of them, we must provide a more comprehensive entertainment venue. So far, we're attracting seniors with the short course, recreational golfers with hack golf, and young people with FootGolf. We've even encouraged the local running club to use the cart paths before the courses open. Times change; people change; and preferred sports and activities change. We're trying everything possible to find a formula that works."

The Decatur Park District is the perfect example of an agency taking a creative approach to appeal to their community members while looking towards the future.