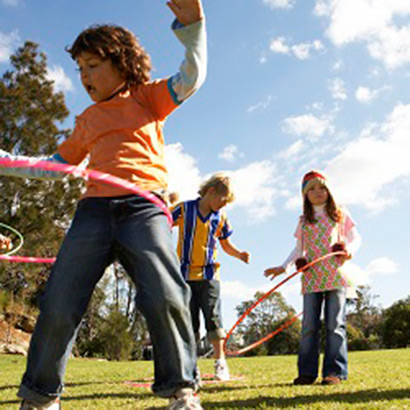 Leading by example is an important strategy in promoting better health in Baltimore, Maryland. In 2013, through its novel Docs in the Park (DITP) program, the Baltimore City Department of Recreation and Parks (BCRP) and a number of regional partners united residents in three major parks to promote lifelong outdoor engagement and demonstrate—through hands-on experience—the large menu of recreation programs and activities available to children and adults.

Through their experiences with children, Dr. Maria Brown of Saint Agnes Hospital and the Children & Nature Task Force of the Maryland Chapter of the American Academy of Pediatrics determined several major barriers to outdoor physical activity for underserved families, including: safety concerns, lack of familiarity with parks, and perceptions by pediatricians that park prescriptions would be difficult for families to fill. Parks & People Foundation, with support from Kaiser Permanente, launched DITP in 2011 to: 1) highlight the ways families can fill prescriptions for healthy outdoor activity; and 2) educate participants on the physical, cognitive, and social benefits of parks and recreation.

DITP events are designed to provide activities for all age groups, with multiple emphases on unstructured play, stewardship, nutrition, and nature. At each event, physicians "prescribe" physical activity, answer questions, and serve as models of healthy behavior. Other community partners include naturalists, outdoor recreation programmers, urban farmers, and nutritionists.

Six DITP events held over a 2-year period engaged more than 400 youth. Volunteers from the Greater Baltimore Children & Nature Collaborative helped implement the program activities at each DITP event. To build on this success in 2013, DITP became a BCRP program. Events in four park districts in the West, East, Central, and Southwest parts of the city were planned. Each park location was chosen based on its potential to reach a large number of underserved families.

In 2013, DITP saw a jump in participation, with more than 600 youth taking part in socially enriching outdoor activities and healthy food demonstrations. At the first event on June 4 in Carroll Park, DITP partnered with the Maryland Department of Natural Resources and various state and local non-profit partners to serve 222 youth and 92 parents. Participants hula hooped, biked, visited a live wildlife exhibit, engaged with nature study stations, and enjoyed nature hikes, while six physicians prescribed physical activity. A healthy lunch was served to parents, further driving home the message of good nutrition.
BCRP credits the event with connecting a large number of families to a park that, despite its potential, is underused. "So many parents said they lived within blocks of the park but had never been there," states Mary Hardcastle, BCRP volunteer coordinator. "They hear about illicit activity that happens after hours so are reluctant to take their kids to the park during the day. But after the event, many parents said they planned to go back."

DITP also inspired stewardship through engagement, such as during the September event at Middle Branch Park as part of the Middle Branch Waterfront Festival, where a group of youth went kayaking with a doctor. "The kids had fun being active out there [in their kayaks]…but they noted things that needed to be addressed in the water and along the shore," affirms Dr. Brown.

Although inclement weather forced the cancellation of their October event, BCRP was able to successfully connect with 200 additional children and their parents later that month at the National Wildlife Federation's annual Baltimore Hike & Seek™. It was a double win, allowing BCRP to encourage physical activity and promote the last DITP event in November at Herring Run Park.

In particular, program partners credit grassroots outreach with successfully reaching many families without Internet access. These efforts included distributing promotional materials at citywide events and special sites such as the Druid Hill Park Farmer's Market and an American Diabetes Association health expo.

"Providing DITP materials at neighborhood events hosted by trusted community organizations builds credibility among our target population," notes Hardcastle.

Grassroots outreach also allowed DITP staff to have in-depth conversations with residents and adjust programming accordingly. For example, by having a DITP exhibit at the annual Dia del Nino festival in Patterson Park, staff gleaned valuable insights on how to be more culturally correct and inclusive.

Program partners continue to seek ways to have a greater impact in the metro area. In 2014, DITP hopes to expand its partnership with the Baltimore City Health Department in support of the Mayor's Healthy Baltimore 2015 initiative, which aims to increase physical activity among residents. In collaboration with the Chesapeake Center for Youth Development, BCRP is also planning to offer additional DITP events and physical activity groups that will engage families in targeted areas of West Baltimore through a grant from the Maryland Health Enterprise (HEZ) program.