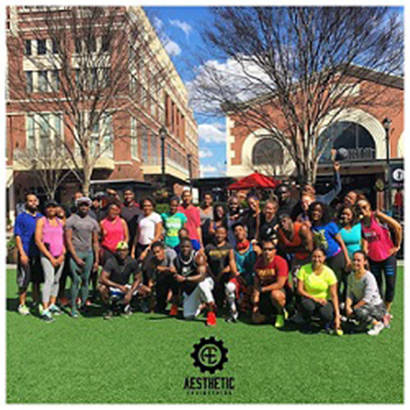 The City of Atlanta was a recipient of the Troops for Fitness grant program supported by The Coca-Cola Foundation and the National Recreation and Park Association. Troops for Fitness provides funding to local park and recreation organizations to help inspire healthy, active lifestyles by training and employing military veterans to instruct community fitness and nutrition classes at local park and recreation agencies.

The City of Atlanta is committed to building strong communities and a vibrant economy by providing safe and exceptional parks, facilities, and programs through effective leadership, collaboration, and innovative thinking. Park and Recreation Departments are a catalyst for improving community health and quality of life. Parks are gathering places for all people. And veterans bring a unique quality to fitness training – in that they have both the firsthand experience in what it takes to get into shape – and they serve as tremendous role models for healthy living. So, the match between Troops for Fitness and local parks was a natural one.

In the city of Atlanta, the Department of Parks & Recreation (DPR) implemented a plan to maximize the quality of living for all Atlanta residents and enhance services for all patrons that utilize program offerings and amenities provided by the agency. The vision is to make Atlanta the city of choice through exceptional spaces and memorable experiences. Due to the fiscal state of Atlanta in 2009, sixteen recreation centers were closed and staffing was decreased. In 2010, newly elected Atlanta Mayor Kasim Reed reopened the sixteen recreation centers with the belief that each center is an essential component to Youth Development.

The Office of Recreation identified six core competencies with input from various stakeholders to ensure the development of focused and actionable program offerings:


Youth Development
Fitness & Wellness
Sports
Outdoor Adventure
Art, Music & Culture
Community Engagement

The Department of Recreation began the implementation of the Troops for Fitness program in July 2013, falling under two core areas: Fitness and Wellness and Community Engagement. The Troops for Fitness Program was officially launched in December of 2013 at City of Atlanta recreation centers including Adamsville, Ben Hill, Rosel Fann, Peachtree Hills, and Coan Park. Program offerings have included strength training, dancercise, yoga, and boot camp. Additional recreation centers have been added which included Lang Carson, Zaban, Morningside, and Grant. The program was implemented in 8-week sessions to allow the agency to assess programming while making adjustments accordingly.

The expansion of additional centers increased participation rates at the recreation centers and further strengthened the notion that recreation centers are vital places for the community to gather and thrive. The Troops for Fitness program has aided in providing quality activities for the adults in the community.

"It has been an honor and a pleasure serving as the program manager for the City of Atlanta's Department of Parks and Recreation Troops for Fitness Program," said Talecia Parks. "It afforded me the opportunity to have a positive impact on Veterans who have served our country. I enjoyed developing the program to ensure that our United States Veterans had an opportunity to use their skills to not only impact the local community, but to also supplement their income. For some Veterans, the program afforded them the opportunity to finish school. I was more than thrilled to offer jobs to United States Veterans."

Although grant funding from the Coca-Cola Foundation was instrumental to the program in Atlanta, the Troops for Fitness Program could be implemented without grant funds by exploring various revenue sharing structures such as charging a nominal fee to participants in with the instructor retaining a percentage. Agencies interested in starting a Troops for Fitness program can look at other cities that have launched the program and gain insight from the community. Providing the types of programming your residents would like will increase the success of the program. The City of Atlanta's Department of Parks and Recreation engaged more than 600 participants each month through the Troops for Fitness program. Veterans, their high level of engagement with patrons, and offering what the participants wanted was the formula for a successful program.