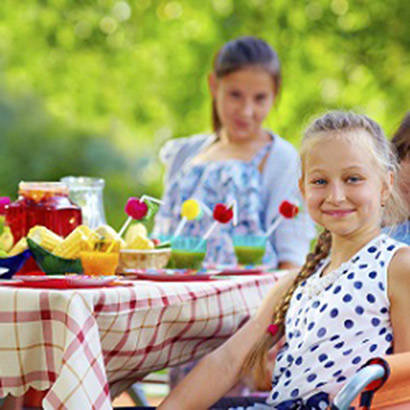 The Arkansas City Recreation Commission (ACRC) does not serve meals during the school year. However, the Commission has been a significant provider of summer meals to community youth (grades K-8) enrolled in day camp for a number of years. Thanks to funds received through the Serving Kansas Communities grant, ACRC was able to increase their summer food service from summer 2011 (10,620 meals) to summer 2012 (13,635 meals) by nearly 30 percent. This counts as a success not only for the Commission, but for the entire community. During the school year, 82% of students in Arkansas City qualify for free or reduced lunches. Having dramatically increased the number of free nutritious meals provided to youth in the months outside of school is a noteworthy achievement.

Prior to Serving Kansas Communities, Arkansas City's summer camp participants were engaged in various games, activities, and swim lessons during the summer months. When awarded the Serving Kansas Communities grant in summer 2012, the City's day camp was able to incorporate nutrition instruction into their daily activities using the Organ-Wise Guys (OWG) program. With hundreds of kids having received this education in camp for the first time ever, Serving Kansas Communities helped ACRC promote health and fitness among the community's youth. In turn, feedback from campers and parents regarding the new programming has been overwhelmingly positive.

Arkansas City largely attributes their successes to improved marketing and advertising campaigns—including newspaper and radio advertisements, announcements in school newsletters, large and well-placed yard signs and banners, social media blasts—made possible through use of grant funds. ACRC observed these marketing efforts effectively promote nutrition and health throughout the entire community. In addition, the grant monies enabled the Commission to purchase equipment and supplies that will sustain the summer food service program in future years. Already, the Commission has committed to further improving upon their summer camp and feeding program. ACRC plans to continue educating campers using the OWG materials. In addition, they plan to include a community garden on-site that the children can more actively engage with next year.

ACRC works under an understanding that now more than ever it is crucial for recreation departments to take a leadership role in their communities. As such, providing exceptional programming, services, and education is a primary responsibility. Furthermore, just as important as providing the service is getting the word out to the community. Although ACRC has had a free summer lunch program for a number of years, this year they saw a huge jump in participation. Many parents were previously unaware that there was such a program in Arkansas City, moreover, that it was free. ACRC expects that participation in summer camp, free meals, and nutrition education will continue to grow in future years.