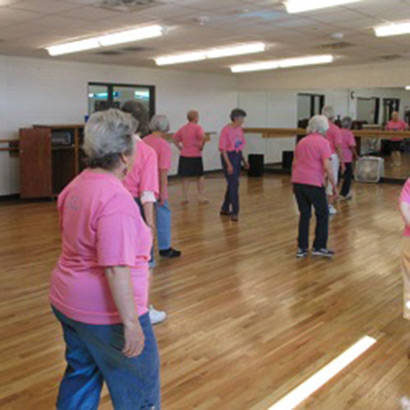 Health and wellness is a priority for the City of Dallas Park and Recreation Department. To that note, in 2015 the city was awarded a grant from NRPA and the Arthritis Foundation to prioritize senior health by encouraging community residents to get active and participate in the Walk with Ease (WWE) program. The WWE program is an evidence-based, six-week exercise program developed by the Arthritis Foundation designed and proven to reduce arthritic pain and improve overall health.

While several participants took part in the program and reported positive health benefits, for one senior from Janie C. Turner Recreation Center, the program was life changing. Ms. Wilson has been attending fitness classes with the City of Dallas Park and Recreation Department for the past 4 years. After being diagnosed with breast cancer and weighing over 300 pounds, she decided it was time to get a handle on her health and her weight. She started exercising at least 5 times per week, attending Zumba Gold and other fitness classes. She knew that in order to beat cancer and become healthy, she had to lose weight.

After much encouragement and motivation from her husband, Ms. Wilson started eating healthy and working hard to lose the weight. She joined the Walk with Ease program and started walking on her own, losing over 140 pounds since starting the fitness program at Janie C. Turner 7 years ago. It has been a gradual process but she has managed to keep the weight off. She continues to work out to videos, walk in the park and remain active as much as possible.

A strong support system is essential to any weight loss journey. Ms. Wilson's husband and family were supportive of her efforts, as well as the staff at Janie C. Turner Recreation Center. They were there to walk with her, offer advice, and help track her improvement. They were also able to provide her with a pedometer to provide an accurate count of her steps each day.

Based on the success of Ms. Wilson, the WWE program, and the changing demographics of the community, the City of Dallas Park and Recreation Department will launch a Senior Division in 2016. The Senior Division will solely focus on meeting the health and wellness needs of older citizens. This will be a grassroots effort to reach out to a broader audience and promote the importance of health and wellness on a greater scale. The city will work to combat common barriers that seniors report, including transportation and offering programming that meets their unique needs.

Health and Wellness is a central pillar for the City of Dallas Park and Recreation Department. With the addition of the Walk with Ease program and the Senior Division, they offer state of the art fitness centers, exercise classes, walking trails, and programs for all members of their community. Ms. Wilson is just one success story from an agency that is making a difference in an entire community.