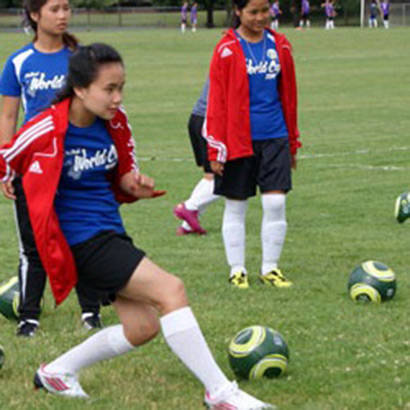 Growing up I was a soccer (football then) player. I walked miles, bare-foot and without a jersey. Even though I did not have the opportunity to play big games due to my identity, I worked hard and it paid off. I finished my Bachelor's degree with the support of a soccer club; I was a coach and referee trained by Olympic Aid, Canada; and I am now the official organizer and coordinator of the Portland World Cup Soccer tournament. My experiences growing up as a refugee helped to shape my future and inspired me to apply my passion through my work for the Portland Park and Recreation Department.

The Portland Park and Recreation Department's World Cup Soccer Tournament has been in existence since 2010 and is a dream realized about the city of Portland. It sends a message about the changing demographics of the city as well as the future of America. The tournament brings together youth, parents and communities to celebrate cultural traditions and diversity, gain access to city resources, and open the door for dialogue between the Portland Community and the City of Portland.

Any player who turns 16 in Portland can play in this tournament for four years, making friends from all over the world—Central America, Middle East, Africa, Europe, etc. They have an opportunity to engage with people who speak over 25 different languages. In the past four years, over 1,500 youth from more than 2 dozen communities have participated including under-served and under-represented youth of color.

The Portland World Cup is a win-win for everyone involved. The city gets a chance to bridge the gap between different cultures, becoming more inclusive and culturally competent. The youth get the opportunity to participate in city activities while starting a new life in a new city. The enormous impact of the tournament is displayed through the lives that have been transformed. In the words of Elizabeth Kennedy-Wong, community engagement manager, "This is how Portland Parks & Recreation leads to create space and provide opportunities for immigrant and refugee youth plus their communities."

This past year PP&R hired youth from nine different ethnic backgrounds to serve on the committee that organized the 2014 tournament. Partners like the Portland Police Bureau, Portland Fire Department, David Douglas High School, African Youth Council of Oregon, Bhutanese Community and the Portland Office of Equity are contributing to the tournament to ensure the success. Prior to the tournament, we took youth to different city offices for "career week" to learn about all the partners and the opportunities involved. That is where Tyler Noble, one of the youth committee members, decided to become a fire fighter and serve the city. It's opportunities like this that the true impact of the tournament can be seen.

The Portland World Cup is setting the stage for community sporting tournaments across the country. On Nov. 27 at a City Council presentation, Amanda Fritz, Portland Park and Recreation Department's commissioner said, "Soccer is an international language that connects good values and establishes long term relationships between city and new-comers, refugee and immigrant youth, and their communities, into our city for better integration."

This is not just soccer; it is a gateway for a connection to resources, an opportunity for the critical integration of new-comers, and an event that truly helps develop the careers, trust, and confidence of youth who are trying to navigate their way to a brighter future. This is a smart investment for better citizens tomorrow and a celebration of unity in differences.

Som Nath Subedi is the coordinator for Portland World Cup Soccer Tournament.