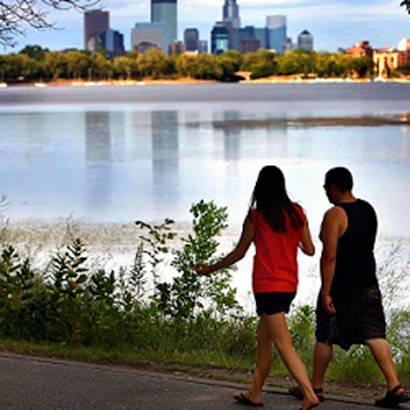 Two staff from the Morristown Parks & Recreation Department took a walk on The Green with an official from the city's tourism bureau. They were seeking ways to promote physical activity in Morristown; making sustainable and lasting changes was important. They considered potential stakeholders and government officials who could be brought together for collaboration, including engineers, police, and the school district. They set up an initial meeting -- and every person who was invited attended.

The Green is a historic park, a beautiful place that was not considered particularly accessible. So, the group had a challenge – how to make improvements to an existing space, keeping the charm but modernizing the walkways and bikeways. A group came together in the fall of 2010 with the goal of improving pedestrian access. This group called itself "Shared Responsibility" included was headed by the Morris Park Commission. Coalition members include representatives of local, county and state government agencies, businesses, non-profits, public health and law enforcement. To name a few, there's Alliance for Morris County Parks, Morris Area Wellness Partnership, Morristown Medical Center, TransOptions, The Seeing Eye and Morris County Tourism Bureau. Soon thereafter, the group took a walk and identified challenges to pedestrian safety and general walkability in the city. "Walkability matters. It brings the community together. When people are out about and walking, there is more opportunity to interact, to be engaged in their community. There's so many benefits to that" says Pam Fisher, a transportation expert. Recommendations included crosshatching crosswalks to increase visibility and improving crosswalks that had been designed with paving stones but proved to be difficult to maintain. The group looked at an over-arching walkability plan for the city and recommended narrowing a street to discourage vehicular traffic and replacing bricks with flat pavers to reduce tripping.

By November, rack cards and posters had been created with the "Shared Responsibility" logo, and on Election Day, they were given to businesses around the Green. Signs were provided and posted at entrances and exits of all parking garages. A local newspaper printed a two-page story with photographs, which greatly increased awareness of the campaign.

Once the improvements were in place, the original group worked with Bike/Walk Morristown, a local group that promotes bicycling and walking. Bike/Walk Morristown agreed to work with city officials and sustain the effort that was already well under way, and the original group moved on to other projects. Through the initial project, a local group of walking and biking advocates stepped forward to continue the work around advocating for these environmental changes.

Bringing the right people to the table, having regular meetings, and sharing information with everyone on the committee resulted in quick success. The group also created a template press release, which aided with positive media coverage.