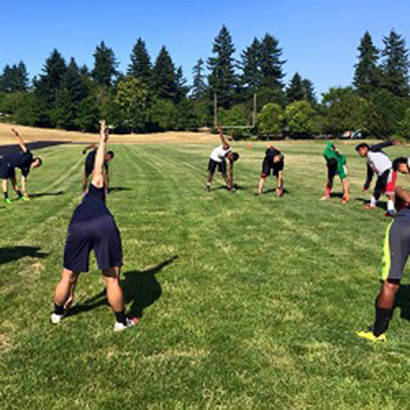 According to a recent report by the City Budget Office, roughly 15% of Portlanders were born in countries other than the United States– that puts the Rose City right in line with about 50 other large U.S. cities. Unfortunately, for many of our newest Portland citizens, parks and community centers are literally a foreign concept. That is where one of Portland Parks & Recreation (PP&R)'s newest programs, Parks for New Portlanders, steps up to welcome immigrant and refugee families into our public park spaces and programs.

The Parks for New Portlanders program started about a year ago to help immigrant and refugee families engage with and to utilize their city's parks and recreational programs via PP&R. Since its inception, it has conducted soccer and basketball tournaments which cater to immigrants and refugees, along with culturally-specific community gatherings in Portland's parks. The program also hired seven Community Youth Ambassadors to help organize culturally-specific recreational activities for their communities. In the Parks for New Portlanders Program's first year, it attracted youth and families from around 40 countries and their disparate cultures, gaining important momentum for this year's goals. The program made a welcome video in 10 different languages watched by 50,000 people last summer.

Why is culturally-specific programming in parks and recreation so important? Parks are one of a handful of places that belong to all citizens, and are one of the hallmarks of America's democracy.

"Our community lives, eats and invests together. They are our valued partners, rather than just some needy population," says Som Nath Subedi, PP&R Program Coordinator for Parks for New Portlanders. "Parks for New Portlanders is a way for our city's immigrant communities to connect to their new home. It shows them that even though they are newcomers, that the city and all it offers belongs to them. City activities belong to them. City resources belong to them. We believe in recreation and access for ALL Portlanders. And PP&R is leading that effort."

Regardless of economic status and backgrounds, people come to parks to be social and to meet neighbors, celebrate with family, to exercise and take needed respite from worries; to connect with nature. However, if parks and recreational activities are an entirely new concept, it can be difficult to access or enjoy these public gathering spaces.

"Many refugee families come from very difficult and dangerous circumstances to start their new lives in Portland. Parks can help with the healing process and show them that they are welcomed in their new home," adds Subedi. "This program bridges the recreational gaps and provides opportunities for access to Portland Parks & Recreation services and activities."

Subedi knows this experience first-hand. He immigrated to the U.S. in 2008 after living 20 years in a Bhutanese refugee camp in Nepal after being forced out of his native country of Bhutan. As he said in a recent Oregonian article, when he first came, "Daily life was very unpredictable. From using a bus to grocery shopping, and being unemployed and trying to find a job, made each day overwhelming for us. We would easily become lost on big crowded streets filled with cars and big buildings. Anxious and tired, we realized that we had no idea how complex living in America would be." Som hopes his work with PP&R will help new families integrate and flourish in Portland.

This coming year the Parks for New Portlanders program hopes to expand its programs to reach even more families. The Portland Parks Foundation looks forward to following this program's successes and supporting our local parks that are the center of our communities. To find out more about how you can get involved, contact Som Nath Subedi at som.subedi@portlandoregon.gov or visit the program's website.