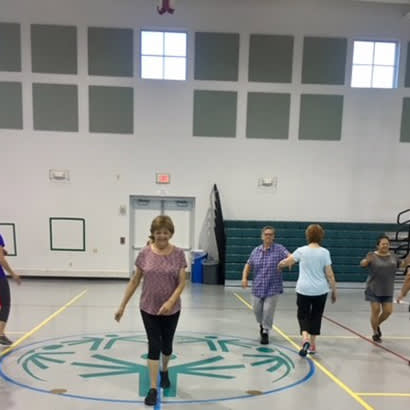 The Palm Beach County Parks and Recreation Department is creating opportunities for healthy, happy living! Palm Beach County is a leader in providing affordable and accessible physical activities for people with health conditions such as arthritis and other chronic diseases. For the past year, older adults in Palm Beach County have been participating in the evidenced-based program, Fit & Strong! - a program designed for older adults with lower extremity pain and mobility challenges.
Our energetic group meets twice a week for 12 weeks. Initially many participants thought exercise would make their joint pain worse. However, participants have come to appreciate the many benefits of the program, including improved muscle strength and reduced joint pain and stiffness. Many have also reported that they are more comfortable, more confident and have a better understanding of how to exercise appropriately and avoid injury to maintain and/or improve functioning and independence. To say that participants have a blast in the program is an understatement! They add their own flare while doing the grapevine and do-si-do and often sing along to the music and incorporate the words "Fit and Strong" as part of the lyrics. Just imagine!
A benefit of the program that most participants did not expect was the camaraderie and support from their peers. The 30-minute group setting discussions provided a sense of belonging and social support and was so much more than discussing a health topic. The opportunity to exchange ideas with peers dealing with arthritis, diabetes, fibromyalgia and similar issues was invaluable. Participants shared recipes and helpful hints and provided moral support and encouragement to each other.
The success stories are amazing! According to Ms. Delia:

"I love the class very, very much. I feel so good. I'm more flexible in my entire body, in my joints and my muscles. When I started, I had very bad sciatic pain. Now, I'm strong. I feel so much stronger. It's such a magnificent therapy for my muscles and my joints. And my brain – when I come here, I feel more relaxed, less stressed. We walk, we talk – I talk with my friends. When I started, I came with sciatic pain and I couldn't walk and I was always in pain and after doing the exercises, I feel more flexible and I have no pain. I feel happier and I've received so much cordiality here."
The Fit & Strong! program has improved long-term engagement in physical activity as many of the program participants now attend our aqua arthritis class and gentle yoga in an effort to continue a healthy lifestyle. During the hot summer months, in addition to the class, the group joined a mall walking group to stay motivated and continue their pursuit for better health.

Public parks and recreation agencies are an underutilized healthcare resource. This program has helped increase the community's appreciation for parks and recreation and the important role they play in disease prevention and management by promoting physical activity and providing resources that improve quality of life.

We look forward to creating a healthier, happier society – one hamstring curl or one walk in the park at a time.
Jackie Lambert is a Recreation Programs Supervisor for Palm Beach County Parks and Recreation.