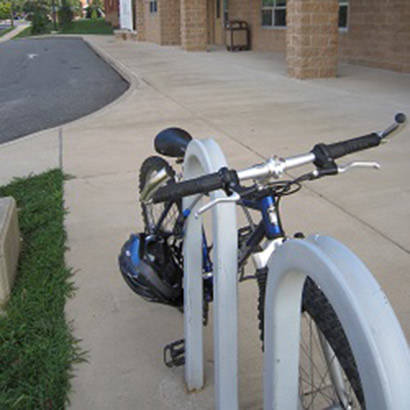 When local leaders in Vanderburgh County, Indiana, sought to increase physical activity as part of the Community Health Initiative, they realized the problem of traffic congestion at large community events could be solved as well. And the solution they found was as simple as a bicycle rack.

Recognizing that many public parks were not bicycle-friendly, the Evansville Parks and Recreation Department worked with the Welborn Baptist Foundation to install more than 50 stationary racks at strategically identified parks in the area. As a result of the project, bike racks are available at every park managed by the department, increasing opportunities for alternative transportation and physical activity, and encouraging more park-oriented bike use.

While the additional bike racks addressed one issue in Vanderburgh County, the creators realized a separate solution was needed to encourage alternative transportation at large community gatherings. Events such as the popular Evansville Fall Festival attract upwards of 150,000 people annually—requiring a large number of bike racks for a short period of time. The county realized that installing an adequate number of stationary bike racks in all pertinent public event locations would not be practical or cost effective.

The solution: portable bike racks.

The Welborn Baptist Foundation joined forces with the City of Evansville and the Vanderburgh County Health Department to make temporary bike racks available for use at event sites. The racks have a travel-friendly and easy-to-install design—making it convenient to match need with the ebb and flow of events throughout the year.

To increase public awareness of the initiative, an option for the portable racks was added to city permit applications. When filing permits to hold events on city property, organizers can request racks to be installed free of charge. Area bicycling clubs have acted as champions for the racks, and have supported and promoted their use for local events.

Project creators note the ease with which the initiatives were implemented, and credit a spirit of cooperation in place in the county due to other collaborative efforts to improve health and wellness. Other related projects such healthy vending and improved signage for walkers are contributing to achieving the county's goals of a healthier and more active populace.