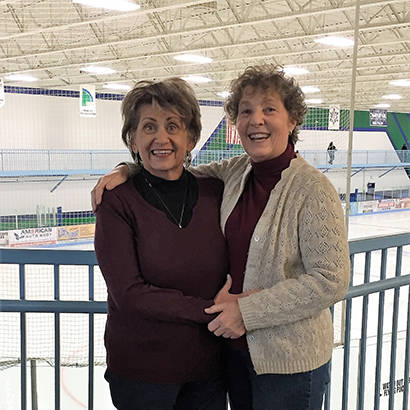 Not long after moving to Minnesota from Las Vegas, Deb walked into the Brooklyn Park Community Activity Center and found exactly what she was searching for. Deb was looking to meet new people, make friends, and find an exercise path that would keep her motivated and accountable. What she found was the Walk With Ease (WWE) program, designed for individuals wanting to increase physical activity engagement in a group setting. It was a perfect match!
The WWE program meets 3 days a week, for 6 weeks. Each session includes a health topic, stretching, and walking (at your own pace and duration). Participants create their own program goals and track their progress using tools created for the WWE program. Besides providing Deb with the motivation, accountability and exercise path she was looking for, she says the program mentally prepared her for surgery she was scheduled to undergo. The program provided the structure and support she needed to adjust her eating and physical activity habits to be successful in her weight loss and surgery recovery. Her entire life had been focused on her job and family, and this was her chance to focus her attention inward - her first step in creating a new chapter in her life.
Deb now not only looks different but feels and acts like a completely new person. When Deb first began the program, she walked with the assistance of a walker or the railing and could walk a maximum of 10 minutes at a time. She now walks without a walker or cane, her leg and ankle pain have been alleviated, and she navigates the stairs in her home without difficulty. She is also no longer the self-proclaimed indoor hermit she was after first moving to Minnesota as she has traveled to Sweden, Finland, and Denmark, all without the concern of falling or not being able to walk long distances while sight-seeing. Deb swims, swings, and jumps on the trampoline with her young grandchildren, and her relationship with them is closer now than ever since she can truly play with them. Anyone can tell just by looking at her that she has a new-found radiance that was missing when she first stepped into the Community Activity Center.
During the WWE program, Deb met Betsy, a former physical education teacher of 26 years from Virginia. After the 6-week session concluded, Betsy and Deb continued to walk the indoor track together at the Community Activity Center. They now walk 4 days a week, for an hour each day without assistance, and it can be a challenge to keep up with them! The walking duo have become very close and go out together, have meals together in their homes, and are planning a trip to Duluth, MN together this summer.
Deb can proudly say that she met and exceeded all of her personal goals, and the WWE program was her first step.
Kristie Walker is a Fitness Instructor/Recreation Specialist for The City of Brooklyn Park Recreation and Parks.