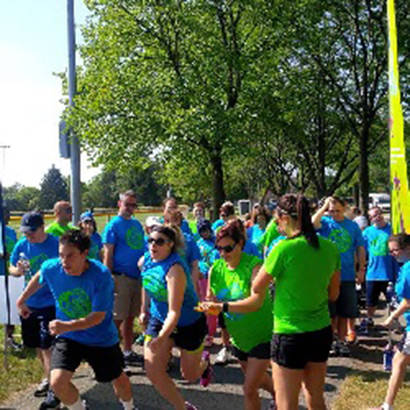 Recreation agencies play an important role in creating healthy communities. As part of our Commit to Health partnership, my colleagues and I regularly lead workshops for park and recreation staff across the country. Today, I am excited to share an interview with Dawn K., program manager of SEASPAR - Special Parks and Recreation. It is SEASPAR's goal to provide a wide variety of programs and services for individuals of all ages with all types of disabilities.

First question: Why do you think engaging families in wellness efforts is important?

I believe that engaging our families in wellness is so important for the sustainability of our Commit to Be Fit program. Commit to Be Fit was funded by the DuPage Medical Group Charitable Fund of the DuPage Foundation. When we can get our families engaged and on board with our efforts, they will be more likely to keep the healthy options available and talk about wellness at home. We see our participants for a few days per week, but most of their time is spent at home with their families. The family support is so very important to reinforcing our efforts in health and wellness.

How has your organization been successful in encouraging families to eat more fruits and vegetables?

Our program uses a nutrition form to track their protein, grain, fruit and vegetable intake each day. They have spent time learning about the importance of a balanced plate at each meal. We have found great success through documenting those specific foods with each meal to help reinforce what we are learning about how to eat healthy each meal. We have a Ninja blender at each of our sites as well. We use the Ninja blender to create healthy smoothies and drinks throughout the week. Through the use of our nutrition journal and incorporating tools like the Ninja into our program, we have been able to increase the fruits and veggies consumed on a daily basis.

Tell me about a healthy celebration or event your organization has led.

We held our first Commit to Be Fit 5K in August. We began training for the 5k in May by getting the group out and walking as much as possible. We started off small and gradually increased the time spent walking. By the time the date for our 5k came, along the majority of our participants were able to complete the full 3.1 miles by either walking, running or rolling the distance. We had great support from our families as well; some of our participants' friends and families joined us and completed the 5k as well. Each participant received a shirt and we celebrated after the race with a healthy lunch shared with everyone who participated.

Have you heard any positive feedback from families on your wellness efforts?

We have received many positive comments from our families regarding the positive changes we are making. They are happy to hear of our increase in water consumption on a daily basis. We have also increased our participants knowledge of healthy foods by learning about them, cooking with them and documenting our efforts with a nutrition journal. Our families are very happy with our efforts and looking forward to what is to come as we continue to efforts in health and wellness.

Last question, just for fun: What's your favorite healthy snack and physical activity?

My favorite snack is hummus and veggies. I run to stay in shape, I have completed many 5k's, half marathons and marathons. This past fall, I completed the Chicago Marathon and the Naperville Marathon. Health and wellness is a big part of my life and I am happy to share that passion through the Commit to be Fit program.

What part of Dawn's story did you find most inspiring?

For me, it was how her personal commitment and thoughtful planning fueled much of the success of SEASPAR. Passion and enthusiasm is contagious, but it is only as sustainable if you put effort into building support and action planning.

Dawn, thanks for your ideas and I hope to see you at a Team Healthier Generation event soon!

Learn more about SEASPAR.