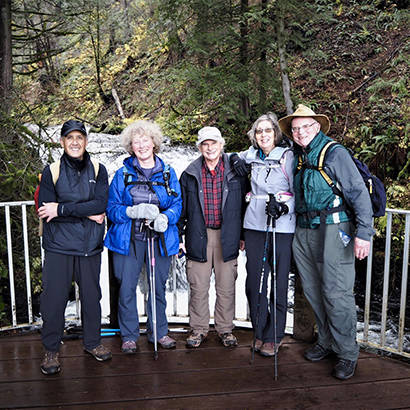 One of the many benefits of living in the Pacific Northwest is access to a wide variety of scenic outdoor activities. In Vancouver, Washington, one of the top 50 cities in the United States to #OptOutside, the Pacific Ocean, Mount Hood and Mount St. Helens are all reachable by car in two hours or less. When envisioning outdoor enthusiasts, older adults might not be the first population that comes to mind, but that's something the City of Vancouver Parks and Recreation Department has been working to change by offering a variety of activities in the "Fifty and Better" program such as SilverSneakers fitness classes, travel programs, and hiking.
Vancouver's The 50+ Forever Young Hikers program takes groups of up to 24 older adults on hiking trips at least once a week, year-round. The program offers hikes in multiple difficulty categories—from three to five miles with little to no elevation gain, to eight-mile treks with steady climbing. Mary Jo has been a volunteer hike guide for the past seven years. "A friend of mine participated in the program and suggested that I join and lead hikes," she said. Mary Jo stuck with it for the socializing and incredible views of the great outdoors, saying "People make lifelong friends going on these hikes."
Another participant and volunteer hike guide, Duke, has been with 50+ Forever Young Hikers for over a decade, and agrees that community is a big part of what makes the program unique but that for older adults, hiking has an added benefit. "It's really the best all-around exercise," he said. Because the Forever Young hikes range from a brisk walk on a flat surface to more strenuous mountain climbing, there is an entry point to the hobby for most levels of ability and experience. Hiking engages the entire body in activity, especially the cardiovascular system, muscles, and bones. It also improves balance, coordination and dexterity. Being outdoors with a peer group also has added benefits for mental health, and all of these factors combine to improve the overall health and quality of life for older adults.
Staff members with Vancouver Parks and Recreation's 50+ Forever Young Hikers program ensure participants are prepared by mandating an in-person orientation, which hikers must participate in prior to being able to register for a hike. During orientation, trained volunteer guides, like Mary Jo and Duke, assess the readiness of the participant. The program has been a great success, with hikes often filling up immediately after registration opens!
Ashley Maginnis is the marketing assistant for Vancouver Parks and Recreation.