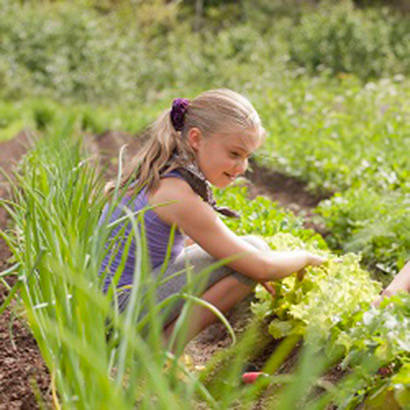 The community garden program is operated by McAllen's Parks and Recreation Department. It is located at the IDEA Quest Academy, which is a K-12 charter school for low-income children. The school is adjacent to one of the city's community centers. The school garden program is a pilot that will be taken to three other community centers in McAllen.

All four gardens will have the same overall objectives — to teach children how to grow healthy food, to provide children with opportunities to eat healthy food by growing it themselves, and to promote backyard gardening with families. But each youth garden will also have its own unique features. One will continue to be based at IDEA Quest. Another will be intergenerational, integrating the large senior population in the surrounding neighborhood into a teen-senior partnership to work in the garden in pairs. Another garden is in a predominantly Latino neighborhood and will feature vegetables used in Latino dishes. The fourth garden is in a diverse neighborhood and will grow a wide range of produce.

The program at IDEA Quest is an after-school club for students between the ages of 10 and 17. Junior Master Gardener curricula were purchased and are used to complement the hands-on activities. The club is registered with the Texas AgriLife Extension Service as a Junior Master Gardener Club. The students prepared and planted four 8' by 3' theme gardens — pizza, salsa, tacos, and salad — and the students are divided into teams of five or six, one for each theme garden. In addition, the students also have access to four 40' by 3' farm rows. The program is woven into the academic curriculum in a variety of ways. For example, the students planned to record and graph harvest data so that progress toward their goal of growing 100 pounds of produce by the end of May 2011 could be monitored.

The program has developed a number of important partnerships. According to Sally Gavlik, Director of the Parks and Recreation Department, "We've worked with the Food Bank. We are working with Master Gardeners. We are working with the local chapter of the race walkers." The same children who are involved in the gardening program will also participate in the race walk group. Gavlik also says "…to understand that this type of program teaches the children responsibility. It teaches them education about their future. This is a lifelong project because it teaches them healthy food habits. And it can actually help them combat obesity and it can show them how, almost anywhere, you can have a garden." The intent is early prevention and reduction of childhood obesity and diabetes, both of which are substantial health problems in McAllen, through gardening and race walking.