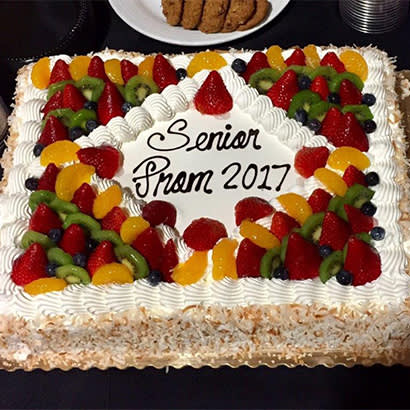 The City of Carlsbad Senior Center has a long history of collaborating with partners to serve the senior community. Having established relationships with local nonprofit organizations and schools, the Carlsbad Senior Center provides programs and services for individuals over the age of 50, and acts as a facilitator for those agencies and individuals who desire to provide a service or program specifically designed to serve senior center patrons.
The innovative "Senior" Prom event was conceived by working with one of our partner agencies, Sage Creek High School, located in Carlsbad. The school has an educational program requirement for all 12th grade students referred to as the Genius Project.
Students are invited to choose their projects, execute their plan, and then reflect on their experience in a TED style talk that they give to their peers and community members. Students are required to choose a project that fulfills three criteria: passion, impact, and challenge.
The senior prom event, designed to provide seniors a first or second chance to relive or experience their high school senior prom for the first time, featured live music, refreshments, dance contests, a photo booth where couples and friends alike created lasting memories. This year's Prom King and Queen were senior dance regulars, Mr. and Mrs. Marty Cooper. The Coopers have been coming to the dances for many years, and attendees cheered when the announcement of the court was made.
Sage Creek student Torrey Rhyne had previous volunteer experience providing senior center services. This previous experience was the inspiration for her to work with seniors and center staff to plan, organize, and implement her Genius Project.
Torrey worked with staff and volunteers through all aspects of event planning, including marketing, coordination with service groups, and securing a sponsor. She recruited the local chapter of the National Charity League to provide and prepare corsages and boutonnieres for prom attendees. The dance sponsor, Carlsbad by the Sea Retirement Residence, provided refreshments as well as door prizes that were distributed during a drawing.