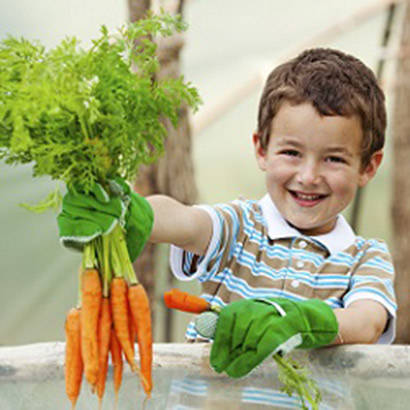 In the face of serious budget shortfalls in 2012, Wichita Parks and Recreation Department (WPRD) was forced to close three of their summer meal sites and saw an overall reduction in the number of meals served compared to summer 2011. However, WPRD was able to do a lot more with what they had left—accommo¬dating larger capacities and building the quality of provided services at remaining sites. One major development in Wichita's camps this last summer was the construction of community gardens or "Children's Farms" at all six summer camp locations. Campers and parents alike were involved from the start in planning, building, tilling, and planting the gardens. Local seniors frequently volunteered their time as well.

In the end, despite facing substantial challenges, WPRD counts a number of valuable successes as a grantee of the Serving Kansas Communities program. Through the children's gardening program, young campers planted tomatoes and okra in hay bale planters, as well as flowers, herbs and peppers in smaller pots. The children were also given the opportunity to bring their new gardening skills home—given take-home planting kits to grow watermelon, pumpkin, cucumber, and carrots with their families. WPRD was soon receiving very positive feedback from parents about the impressive new line of educational programming. Staff heard from many families that they were testing new healthy recipes that their child had brought home.

WPRD was mindful of maintaining campers' attention throughout the day by planning hands-on nutrition education programming. In addition to learning from the OrganWise Guys curriculum, children participated in snack and cooking projects—making their own delicious trail mix, fruit smoothies and fruit skewers. Campers were kept physically active with daily rotations of fitness activities and were visited by guest fitness instructors that taught them exciting activities, such as Zumbatomic—Zumba exercises for kids. Kids overwhelmingly embraced the new programs and were excited to learn about gardening, getting involved in physical activity, and keeping a healthy heart.

Collaboration between WPRD, other city government offices and small businesses appears to have occurred without difficulty, as all partners are proponents of healthier kids and a healthier Wichita. WPRD plans to continue working with partners, such as the Sedgwick County Extension Office and Small Smiles Dental Center, in the future to expand the reach of nutrition programming in Wichita. During the school year, WPRD plans to incorporate their gardening activities and nutrition education through their after-school program. They would also like to develop programming oriented toward the community's teen population, perhaps in cooperation with a local community college. WPRD believes that the Serving Kansas Communities program has set the bar for future programming with an important educational addition. WPRD believes the community's enthusiasm will be a huge component to keeping the momentum going.