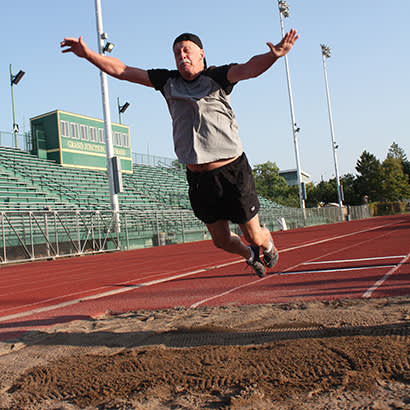 For the past 19 years, the Grand Junction Parks and Recreation Department has been hosting the Western Colorado Senior Games. During this week-long event you will see over 300 athletes aged 50+ having the time of their life, and folks from cities and towns across the state of Colorado and the surrounding states unite in friendly athletic competition and share a few laughs.
With over 60 events, there is something for everyone! From the "weekend warrior" to the highly trained athlete, participants can choose to challenge themselves as much as they want. Inclusivity is the key! Some of the activities include a dance competition, golf, track and field, even backyard sports such as bocce and corn hole, along with a two-day Pickleball tournament to finish off the week. As you can imagine, it takes a small army of over 40 volunteers and parks and recreation staff to pull off an event of this magnitude. Mike, who has volunteered for 8 years explains why he has dedicated so much time and effort into the Western Colorado Senior Games. "I get total enjoyment in coaching, helping, and just watching people pushing themselves to do their best. For most of them it's not to win, just doing it and being out there with all the other senior athletes is what it's all about!"
Every year we have a fun tag line that we put on our signature t-shirt. Athletes are Ageless and Inspired and Retired to name a few. It sets the tone to keep it light and enjoy the company of fellow athletes. All week long you see people laughing, being active, trying new things, and genuinely enjoying themselves! Our oldest competitor Ellen is 98 years old and has competed for the past 17 years. Ellen says, "I just love to see if I can still do all of the things like softball slug fest, shot put, discus, and long jump. The first time I completed a lap around the track I started crying. It meant more than the medals! I enjoy seeing everyone every year and making new buds. I step up to the challenge, I just do!"
Fun has always been the primary focus. This isn't a qualifying event for any state or national level competition. We just want people to enjoy life, reap the benefits of staying active, experience social and emotional wellbeing, and personally challenge themselves in whatever ways they see fit. People obviously agree as we will be celebrating our 20th anniversary next year!
Lorie Gregor is a Recreation Coordinator with the Grand Junction Parks and Recreation.