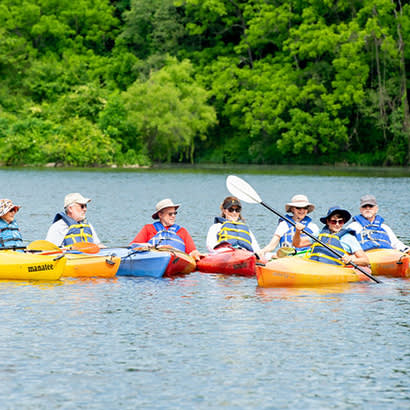 "We live in a wonderful world that is full of beauty, charm and adventure. There is no end to the adventures that we can have if only we seek them with our eyes open." -Jawaharlal Nehru.
Adventure is exactly what Howard County Department of Recreation & Parks is infusing into its Active Aging programs through its newest programs, Encore Adventures. In this series of programs, adults ages 55 and up can participate in a variety of outdoor adventures. These programs are facilitated by the Department's Adventure & Outdoors group. Through the Encore Adventure series, participants can engage in kayaking, archery, fishing, bike walks, history hikes, and our indoor rock wall. There is something for every level of engagement. Once individuals try five different adventure programs, they become a certified Encore Adventurer, complete with a patch and certificate!
Many visualize "encore" as people standing up and cheering for more. That is just what was imagined with this Active Aging programs. Encore adulthood is a time to reignite the excitement of years past and explore something new. When retirement is achieved, active adults gain the time to try a multitude of activities that keep them engaged, healthy, energized, and social. With the Encore Adventures program, older adults get to do just that with the added benefit of being out in the parks.
Not only do older adults get to enjoy learning a new activity with the Encore Adventures series, they also receive many health benefits that are linked to being outdoors and staying physically active. Paddling a kayak or reeling in a fish certainly gets the heart rate up! In addition to the physical benefits, outdoor exercise improves mental health, reduces stress, increases reasoning abilities, expands creativity, and improves short-term memory. Although people may think that adventure is found in some far-off part of the world; adventure can be found in your backyard or local park!
Photo credit: Cara Marshall, Marketing Coordinator at Howard County Recreation & Parks
Ruth Coleman is the Active Aging Programs Manager at Howard County Department of Recreation & Parks.