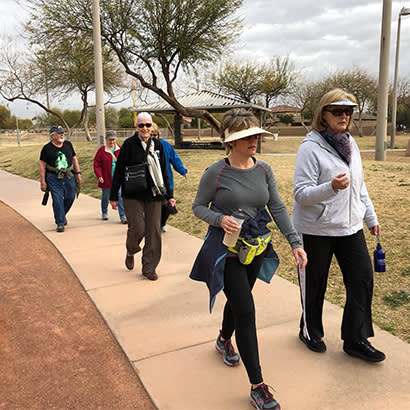 The City of Goodyear Parks and Recreation stands by its mission to enhance the quality of life and foster a sense of community for residents through its parks, programs, signature community events and services. As a proud partner of the Let's Move Initiative - America's move to raise a healthier generation of kids - the City of Goodyear wants to ensure that they are also nurturing a healthier generation of older adults.
To this end, Goodyear recently welcomed a new evidence-based physical activity program, Walk With Ease, which has been a huge success. The program has helped to improve overall physical activity engagement among all the participants, which in turn has resulted in observable improvements in physical function as well as social and mental health benefits.
On the very first day of the 6-week program, walking was limited to only one mile. However, as time progressed, the walks only got easier! By the end of the 6-week session, participants were walking up to 1.8 miles. Staff prepared different sets of warm-up and cool-down exercises as well as walking routes so that every class was not the same routine- which gave the participants something to look forward to. During one class, the participants walked the exterior and interior of the city's ballpark, home of the Cincinnati Reds and Cleveland Indians spring training.
"The City of Goodyear made a great choice in making the Walk With Ease program available to the community" said Jill Shank, a program participant.
The program also provided a social outlet for participants as it made walking fun for the participants walking in a group as opposed to walking alone, and it offered the much needed element of accountability. The overall objective of the program to keep the body moving and healthy was not only seen but felt in improved energy and stamina.
I strongly encourage the city to continue to offer this program. This program has been rewarding for the community, and due to the huge success will continue through the spring and fall.
Richard Ortiz, CYSA, is a Recreation Programmer for the City of Goodyear Parks and Recreation and can be reached at richard.ortiz@goodyearaz.gov.