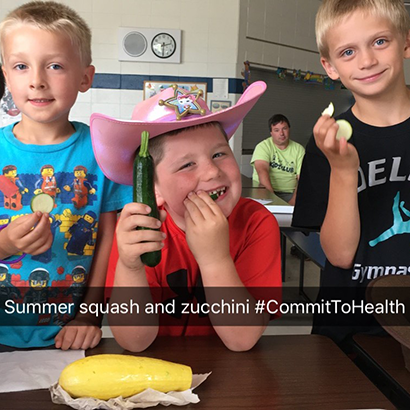 This past year, 41 local park and recreation agencies received grant funding from NRPA, with support from the Walmart Foundation, to implement the Commit to Health program in their out-of-school time programs. As this grant cycle comes to a close, agencies are sharing the inspiring stories of kids excited to try new fruits and vegetables, thanks to the Foods of the Month curriculum, and who are energized by increased physical activity opportunities.
The City of Wisconsin Dells Parks and Recreation Department in Wisconsin Dells, Wisconsin, found success in engaging whole families with healthy eating and physical activities.
"The grant funds allowed us to significantly enhance our curriculum and purchase sustainable supplies to allow for excellent nutrition education. The nutrition education that we provided will hopefully assist our youth into making smarter choices when it comes to snacks and meals. We were able to provide vouchers that engaged families to select and purchase local fresh produce. This allowed for healthy eating and a fun family activity."
In Mooresville, North Carolina, the Mooresville Parks and Recreation used the power of advocacy to host two Park Champion events during the grant cycle.
"Our summer camp sites held two Park Champion events. First, Representative John Fraley and Mrs. Elizabeth Edwards, Regional Director of Constituent Advocacy for Senator Thom Tillis, served lunches and engaged in conversations with the campers. Mayor Miles Atkins, Town of Mooresville officials and recreation staff enjoyed eating lunch with the campers. Second, the Healthy Eating Field Day was coordinated by recreation staff, afterschool counselors and summer camp participants. Booths included information on watermelons, oranges, nectarines, strawberries and water vs. sugary drinks. Campers participated in activities like watermelon seed spitting, juicing and oranges, rock painting, trivia, field games. A grandmother whose three grandchildren attended camp shared, 'My grandchildren are eating a healthy breakfast and lunch everyday. Children are hungry during the summer months. They are learning why it is important to eat healthy and exercise too. There are lots of families that cannot provide breakfast and lunch for their children. The Healthy Out-of-School Time Grant afforded my grandchildren this opportunity and I am very grateful.'"
Mooresville campers also shared their creative side while celebrating Foods of the Month by directing and starring in a catchy video called "Berry Fairy."
In the City of Mesa Parks, Recreation & Community Facilities in Mesa, Arizona, the Healthy Out of School Time Grant saved the summer meal program.
"Mesa Public Schools had several school sites that were going to be closed for the 2017 summer due to construction or repairs to the building and, therefore, were not going to be able to host summer meals at the usual sites. With the support from the NRPA / Walmart Foundation grant, the City of Mesa offered to utilize parks to host the lunch programs. With the funding, the City of Mesa purchased food service equipment necessary to travel from four park sites and maintain adequate food temperatures. The City of Mesa also purchased 10x10 pop up tents for additional shade to help with the outdoor sites."
Mesa was also able to increase physical activity opportunities through a program the six-week Fit Kids camp, focused on health and wellness. The camp offered a weekly theme and focused on goal-setting, hydration, sun safety, physical activity, and nutrition. The camp incorporated the Foods of the Month trivia, nutrition games, and newsletter with the weekly information distributed to the campers and families. The camp hosted a Health Fair at the end of the session to allow the kids to show their parents what they had learned.
We'll continue to share the great work our Healthy Out of School Time grantees did this year, so check back for more stories, and for information on how your agency could receive a future grant!