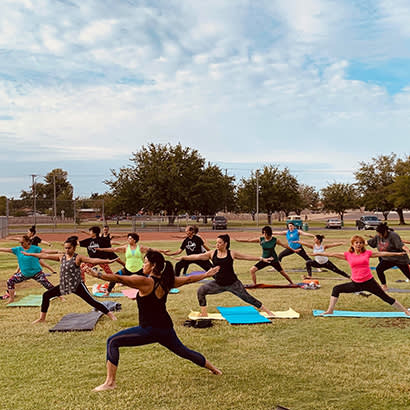 For an enhanced digital experience, read this story in the ezine.
Strategies to increase the use of parks, trails and greenways for physical activity
Local park and recreation agencies serve as Community Wellness Hubs: trusted gathering places that connect every member of the community to essential programs, services and spaces. Wellness hubs advance health equity, improve health outcomes, and enhance quality of life across seven dimensions of well-being. Park and recreation professionals who foster wellness hubs create environments for all people to thrive in their communities — which includes providing opportunities for physical activity.
Physical activity is one of the best things people can do for their health. Access to recreation facilities and park visitation correlate with greater physical activity, and people who use park amenities are three times more likely to achieve recommended levels of physical activity than non-users. While the health benefits of parks are well-documented, additional research has been needed on factors that contribute to increased park use for physical activity. In 2021, the Community Preventive Services Task Force recommended park and recreation and public health professionals combine infrastructure improvements with additional activities as a strategy to increase physical activity in communities.
Infrastructure improvements include developing new parks, trails or greenways, and adding to or upgrading existing spaces. Combining infrastructure improvements with additional activities — such as community engagement, structured programming, public awareness campaigns or access enhancements — can encourage communities to use parks, trails and greenways to get active.
Implementation
To support professionals in im-plementing the recommendation, NRPA developed the Active Parks! Implementation Guide. This work supports the Centers for Disease Control and Prevention's Active People, Healthy Nation Initiative, which aims to help 27 million people become more physically active by 2027. The guide provides a step-by-step process for professionals to equitably increase physical activity and ensure all people — especially those who have been historically excluded or face additional barriers — are authentically engaged and benefit from projects to improve and activate parks, trails and greenways. In addition, the guide provides sample infrastructure improvement, community engagement, programming and public awareness actions to get started.
The guide also features case studies that provide real-world strategies park and recreation professionals have used to improve park, trail and greenway infrastructure; engage community members in the process; develop new programs; promote public awareness; and address other access barriers to these spaces. The activities described in these case studies helped increase physical activity, and the approaches serve as actionable examples that can be replicated in other communities.
Case Study: Ken-O-Sha Park
In 2019, the City of Grand Rapids (Michigan) Department of Parks and Recreation began renovations at Ken-O-Sha Park, which included a natural playscape using recycled fallen trees, a portable restroom, access enhancements — like pathways and wayfinding signage — and an outdoor classroom.
Grand Rapids leveraged community members' expertise to inform these improvements. Staff used community events, design charettes, focus groups and social media to collect input. The team heard consensus for prioritizing youth learning, improving natural areas and water quality, and bringing new people to the space. Investing in community engage-ment upfront led to improvements that excited community members, resulting in high usage of the new amenities.
Additionally, increased trail connectivity and wayfinding signage make getting active at Ken-O-Sha Park easier than ever, increasing community members' physical activity and time spent outdoors.
Case Study: McKinley Park
In 2016, Pittsburgh Parks Conservancy implemented a project at McKinley Park in Pittsburgh's Beltzhoover neighborhood. Like Grand Rapids, the conservancy hosted multiple public meetings, including formal presentations and "living room meetings," where residents engaged in intimate discussion about park-related needs.
Based on community input, the project design included play elements, picnic areas and sledding hills. The conservancy installed several infrastructure improvements, including rain gardens to re-direct stormwater from four sewer inlets, a new pavilion with an accessible ramp, a new slide built into the historic hillside behind the pavilion, and an accessible trail. Project participants restored two historic staircases, repaired the sidewalk along one of the main entry points, and added improved connections to the park from other entry points.
The park features a playground, senior center, skatepark and an upgraded basketball court, all of which were financed through a partnership with the Urban Redevelopment Authority. Janel Young, a local artist who grew up in the Beltzhoover neighborhood, also beautified the area with a mural. Thanks to the integration of community voice, culture and the preservation of historic elements, the park continues to serve as a gathering spot for generations.
These case studies exemplify how combining community engagement, infrastructure improvements, access enhancements and programming can revitalize and activate our public spaces to increase community members' physical activity — and, in turn, their health and well-being.
Teresa Morrissey is a Senior Program Manager at NRPA.