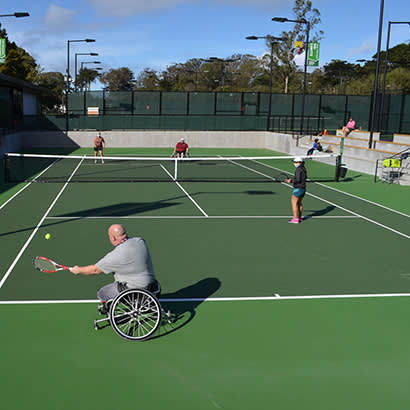 For an enhanced digital experience, read this story in the ezine.
A tennis complex in Golden Gate Park reaffirms a commitment to equity, youth development and democratizing the sport
In the heart of one of the West Coast's great urban parks sits a revitalized tennis complex that is capturing the attention of tennis players, pickleball enthusiasts, San Francisco youth and other community members alike. The Lisa and Douglas Goldman Tennis Center (GTC) meets the distinct programming needs of its diverse users who rely on the complex for everything from professional tournaments to casual matches, as well as youth learning programs, tennis camps, pickleball clinics, community fundraising events, birthday parties and more.
The GTC — designed by EHDD with early design input from Hammel, Green and Abrahamson — is integrated seamlessly within the physical landscape and programmatic rhythm of San Francisco's iconic Golden Gate Park. The intentionally flexible complex was designed to support year-round youth and adult programming, as well as a variety of professional and community uses, all of which now activate the center on a daily basis.
Programmatic upgrades to the complex included dramatically increasing play time by installing new court lighting and offering additional services through spaces, such as the new comprehensive tennis pro shop.
"The real magic of the GTC, in terms of both its design and programming, is its unique ability to reach and properly serve a wide range of our San Francisco community — it's both a neighborhood center and a destination complex, and that's a huge credit to the teams who worked to bring it to life," says Phil Ginsburg, general manager of the San Francisco Recreation and Parks Department.
A strong example as to how the GTC distinctly caters to the populations it serves can be found in the space designed for San Francisco Recreation and Parks' Tennis and Learning Center (TLC) nonprofit — an out-of-school time program that promotes academic achievement, health and wellness, and social-emotional development through tennis. Operated out of GTC's Koret Teaching and Learning Center, this portion of the GTC is an integral component of the center's clubhouse, complete with its own entrance to solidify a sense of place and ownership for students. TLC serves elementary school children in four of San Francisco's most high-need communities. The new space at GTC enabled TLC to launch a new middle school program, providing the capacity to increase the number of students who can be served by the organization's programming by close to 60 percent.
"As a result of the revitalization, the GTC's profile has been significantly elevated within the community, drawing in thousands of new players," says Martha Ehrenfeld, co-chair of Tennis Coalition SF, an integral component of the public-private partnership that brought the GTC to fruition.
The EHDD and HGA design teams, in close partnership with the city of San Francisco and local community members, have reimagined and reconfigured the GTC so that all its distinct populations can be satisfied, while creating a true cultural hub that allows future change and accommodations as these groups grow and evolve. The complex has brought new life and energy to Golden Gate Park, giving the entire community a new reason to explore all that it has to offer.
Marc L'Italien, FAIA, DBIA, LEED AP, is Design Principal and Practice Leader at HGA.