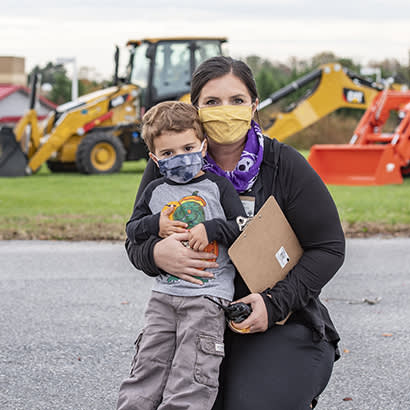 For an enhanced digital experience, read this story in the ezine.
When it comes to planning events, organizers have likely considered almost every scenario possible to be prepared for the unknown. There are plans for natural disasters, accidents, extreme weather, terrorist threats and so much more — but a pandemic?
Last year, as the world transitioned from the thought process of "we just need to wait this out" to "this is the new normal," event planners were faced with the task of how to adapt special events. With only a five-step process, Howard County Recreation and Parks in Maryland was able to modify procedures to successfully develop a new event plan.
While the following example shows the measures Howard County Recreation and Parks took for its Fall Festival, called Truck or Treat in Howard County, these tips can apply toward any major holiday event, including Memorial Day.
Truck or Treat is typically a Halloween-themed touch-a-truck experience that features trucks and tractors from the parks department, county highways, police, fire and rescue, park rangers, and even local businesses. Families can trick-or-treat at the trucks; take pictures; and enjoy carnival-type games, inflatable slides, face painting, a hayride and more. The three-hour event typically hosts more than 2,000 people. If there is inclement weather, the trucks remain outside, and all activities move inside the community center.
During the current climate with physical distancing, mask wearing and limited crowds, a few factors needed to be taken into account.
Step 1: Look up the current local and state guidelines in your county or area. For Howard County Maryland, in Stage III of reopening, inside capacity was limited to 50 percent, masks were required in all situations where you cannot physically distance from others and gatherings were limited to 250 people.
Step 2: How can we adapt to fit the guidelines in the area? These guidelines immediately caused the cancellation of any indoor options for the event, as well as limited the tickets to no more that 250 at a time. (The event space is approximately 85,000 square feet, and also backs up to a park.)
The event was adapted by extending the time from 10 a.m. to 3 p.m. and admission was limited to one-hour increments. Usually, tickets are sold for $2 per person ages 2 and older, but by changing them to $5 per child, there was an accurate count for the number of pre-filled treat bags. Then, adults and babies just needed a free ticket in order to have a precise head count. (Adult tickets were limited to two per child.) The first group was given from 10 a.m. to 11 a.m. to enter, look at the trucks, take pictures and pick up their pre-filled treat bag on the way out. The next group came in from 11:20 a.m. to 12:10 p.m., and so on, with the fourth group ending at 2:30 p.m.
Step 3: List all of the activities that are part of the event. Look at each activity and ask, "Can this be adapted to be physically distant and safe for all involved and how? Or, should this activity be removed from the event?" See the chart on the right for reference.
Step 4: What new things can be added that are budget friendly and meet physical distancing guidelines?
A scavenger hunt — printed and handed out with a pencil
Photo backdrops/frames — children attending want to have fun, see the trucks and get candy and treats. The parents want cute pictures of their children having fun. "Photo frames" or "selfie stations" can be set out using borrowed and collected materials to minimize costs.
Step 5: Ask five important questions based on the following: Safety, Feasibility, Experience, Budget and Value. By answering yes to all five of these questions, a successful event can be planned while adhering to all local, state and Centers for Disease Control and Prevention guidelines. All participants were emailed the participant expectations ahead of time, and all rules were followed. Howard County Recreation and Parks was able to provide the community with a fun and festive event while maintaining safety, as well as meeting the high expectations that customers have come to know and expect from the department.
Christine DiGioia is Event Coordinator for Howard County Recreation and Parks.