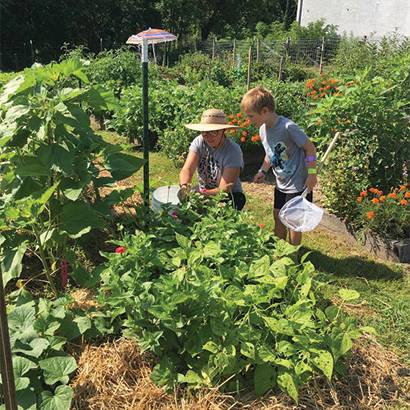 For an enhanced digital experience, read this story in the ezine.
Park and recreation professionals have a positive, lasting impact on millions of people every day through their tireless efforts to deliver programming and amenities that advance mental and physical health, create climate-ready parks, and support equity and inclusion. Local park and recreation agencies and their dedicated staff also are engines of economic activity in their communities. This past spring, NRPA's The Economic Impact of Parks report, conducted by the Center for Regional Analysis at George Mason University, finds that operations and capital spending at local park and recreation agencies generated more than $166 billion in U.S. economic activity and supported 1.1 million jobs in 2017.
Another report from an agency of the U.S. Department of Commerce highlights the economic impact of parks and recreation. The Bureau of Economic Analysis (BEA) annually releases the Outdoor Recreation Satellite Account report that assesses the size and contribution of the outdoor recreation economy to the overall economy. The most recent report, published in November, finds that outdoor recreation gross domestic product (GDP) was $459.8 billion in 2019, the equivalent to 2.1 percent of the total value of output produced by the United States. Adjusting for inflation, the outdoor recreation economy grew 1.3 percent in 2019. (By comparison, the entire U.S. economy expanded 2.1 percent during the same time.)
The relative size of the outdoor recreation economy varies significantly by state. The top six states in terms of the percentage contribution outdoor recreation makes to GDP:
Hawaii – 5.8 percent
Vermont – 5.2 percent
Montana – 4.7 percent
Florida – 4.4 percent
Maine and Wyoming – both at 4.2 percent
BEA divides outdoor recreation into three major categories: conventional, supporting and core activities. Conventional activities include bicycling, boating, hiking and hunting, and is responsible for 30 percent of the outdoor recreation economy. Supporting activities, including construction, travel and tourism, local trips, and government expenditures, are responsible for 51 percent of the outdoor recreation economy. Other core activities (such as gardening and outdoor concerts) fill out the remaining 19 percent of the outdoor recreation economy.
BEA and NRPA analyses measure different things — BEA only considers outdoor recreation activities, whereas NRPA looks at the full spectrum of indoor and outdoor offerings. Further, the NRPA study narrows its focus to solely local public park and recreation agencies. In contrast, the BEA report studies a full spectrum of public and private outdoor recreation organizations and companies, including manufacturing and retail sales associated with outdoor activities, private-sector concerts and tourism.
But even though the analyses may differ, their respective messages do not: parks and recreation and outdoor recreation bring many benefits, including a vital economic contribution to local communities throughout our nation.
This message may never be more critical given the budgetary challenges facing many local and state governments. Nearly half of park and recreation leaders responding to the December 2020 NRPA Parks Snapshot Survey noted that their agencies were facing cuts to operations spending this year, with a median reduction at 20 percent. A third of park and recreation agencies were slicing their capital budget, with a typical reduction of 37 percent.
Now more than ever, park and recreation professionals and their advocates need to educate policymakers, key stakeholders and the general public on their work's broad impact. When combined with the ability to deliver healthier and happier communities, your agency's offerings are not merely a "nice to have" luxury government service. Instead, parks and recreation transforms our cities, towns and counties into vibrant and prosperous communities for all.
Kevin Roth is NRPA's Vice President of Research, Evaluation and Technology.