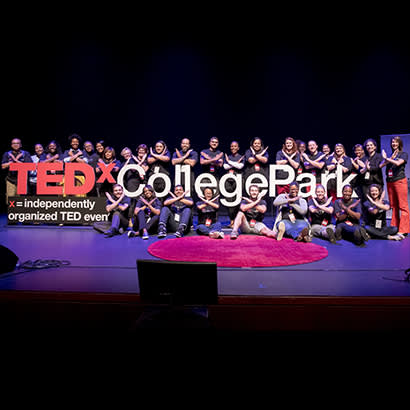 For an enhanced digital experience, read this story in the ezine.
Introducing a new TEDxCollegePark virtual event for park and recreation professionals
One Smile Breaks the Ice...
One Spark Ignites a Fire,
One Kind Word Heals a Heart...
One Unkind Action Scars for Life,
One Word Begins an Epic...
One Voice Against Injustice Starts a Movement, and...
One Idea Can Make a Dent in the Universe!
These phrases are how I would describe an innate yearning to make a dent in the universe. It's that desire that has brought together a group of park and recreation professionals to harness the power of ideas and start TEDxCollegePark.
By now, most people have seen TED Talks, which started off as a conference where people with knowledge on technology, entertainment and design converged to give short, powerful talks. These presentations, in more than 100 languages, have become the gold standard for storytelling and established TED as a community of people from every discipline and culture who seek a deeper understanding of the world.
TEDx (independently organized TED events) is a grassroots initiative, created in the spirit of TED's overall mission, by passionate individuals who seek to uncover new ideas that spark conversations in their communities.
TEDxCollegePark was first organized in 2018 with the theme of "Get OUTside" at the University of Maryland's Clarice Smith Performing Arts Center and was a resounding success. Roslyn Johnson, director of Baltimore County Recreation and Parks and the co-organizer of TEDxCollegePark, shared her reasons for being involved with TEDx: "It is innovative and futuristic, not to mention it has the ability to address trends, issues and next practices affecting our profession and industry in real-time. It resonates across generations in a way, unlike any other educational medium. I learned so much that I still use today, from the inherent inequities present in artificial intelligence to the future of autonomous vehicles and how teenage girls built a [solar-powered] tent to help the homeless. The energy was electric and the talks [were] mind-blowing!"
While the talks from TEDxCollegePark have been viewed thousands of times and continue to impact communities globally, hosting this again was not planned for the immediate future.
TEDxCollegePark 2021: An Equal Future
The occurrences of 2020 changed the plans: the coronavirus (COVID-19) pandemic and its disparate impact on underinvested, Black and brown communities, and the social justice movements laid bare the inequities that exist all around us. Inspired by our fellow park and recreation professionals who stepped up around the country to help their communities, our TEDxCollegePark team determined it was time for another event — and this time it's virtual!
The theme for our event is "An Equal Future." We want a future where one's zip code does not determine their lifespan; where one's gender or gender identity does not limit professional growth; where the color of one's skin does not determine how they are treated; and where access to opportunities is open to ALL.
The presenting partner from the inaugural TEDxCollegePark is a national sports tourism leader — Maryland's Sports Commission. According to its executive director, Terry Hasseltine, "Our goal is to be at the forefront of thought-provoking subjects and conversations that provide experiences, education and leadership opportunities for our Team Maryland partners and our other constituents across Maryland. TEDxCollegePark provides us such a platform, and we look forward to engaging in the conversation on An Equal Future."
Why It Matters for Parks and Recreation
Peter Harnik, the founder of the Center for City Park Excellence at The Trust for Public Land, says in his book, Urban Green: "Now I'm not so sure that rocket science is that simple, but I am sure that parks are far more complicated than people imagine. It is this intersectionality of ideas that makes TED and TEDx events relevant to every imaginable interest, especially something as multifaced as parks and recreation."
Kristine Stratton, president and CEO of NRPA, has been a big fan of TED and TEDx for years. She loves the short format and its focus on new ideas and narrative storytelling. In speaking to NRPA's decision to partner with TEDxCollegePark, she says, "At NRPA, we have focused on the core pillar of equity for several years — which, for us, means doing all we can to create a future where everyone has access to the health, social and environmental benefits of quality parks and recreation. Not only that, [but also] NRPA is an organization that is rooted in learning and professional growth to fuel ideas and excellence in the field, so this virtual TEDxCollegePark convening is a perfect way for us to honor our commitment to our members and the park and recreation field overall."
Why Should You (and Your Agency) Attend?
To prepare the park and recreation professional of the future. As the pandemic and its subsequent events have shown, park and recreation professionals are expected to be everything from virtual program providers to grief counselors, planners and engineers to arts instructors and athletic coaches, and even COVID-19 test-site operators! With this diversity of backgrounds and needs, how can any one type of learning opportunity suffice to train the park and recreation professionals of the future?
Want to learn how the technology used to 3D print houses on Mars can help build affordable housing (and even playgrounds) on Earth? Come listen to Professor José Pinto Duarte, the Stuckeman chair in design innovation and director of the Stuckeman Center for Design Computing at the Pennsylvania State University, share his team's NASA award-winning work.
Ever wonder how virtual reality (VR) can help bring people together? Hear Ahn Hyo-jin, CEO of Tekton Space — a leading VR company in Seoul, South Korea — discuss the experience of working with the American Red Cross to help war refugees re-experience their homeland.
To identify what true accessibility and inclusion looks like. In our daily lives, we go about so many mundane tasks — such as getting up from a chair to get some water, ordering food via a mobile app or taking a walk — often without consciously thinking about them. We end up looking at public spaces or experiences and falsely assuming that they are accessible because they check the box of the minimum required, or they are accessible and inclusive to us.
Just ask Madeline Delp, Ms. Wheelchair USA 2017 and the first paraplegic to BASE jump in the United States and rock climb the cliffs of Mount Rushmore, about her accessibility challenges and experiences around the world, as she attempts to become the first woman to compete in a Miss USA pageant in a wheelchair.
Ryan Maliszewski is CEO of Mozzeria, Washington, D.C.'s first Deaf-owned and operated restaurant, which opened its doors during the worst pandemic in 100 years. As a Deaf person, Ryan doesn't suffer from "hearing loss," he was gifted with "Deaf Gain." From working on Capitol Hill to being a change agent at the FBI, to becoming the director of the Innovation & Entrepreneurship Institute at Gallaudet University, and now, in the Neapolitan wood-fired pizza business as a CEO, his life story will share lessons to create a culture that prioritizes equitable opportunities and truly inclusive experiences.
To learn a different history than you thought you knew. February was Black History Month and March is Women's History Month, and yet, so much of the history we learn is one-sided and filled with incomplete narratives wrapped in stereotypical representations. Have you ever wondered about the history of the land that every one of our parks is built on? Is Thanksgiving truly a "happy" occasion for everyone?
Professor Sara Sinclair is an oral historian of the Cree-Ojibwa tribe, German-Jewish and British descent, who teaches the oral history master's program at Columbia University in New York City. She conducted interviews to explore narratives of university-educated, reservation-raised Native North Americans on returning to their nations after school. Her book, How We Go Home: Voices from Indigenous North America, shares why we need to amplify current narratives and how we can think of land acknowledgement and beyond. What's more, she will be talking more about the Cree-Ojibwa during her presentation.
To have tough conversations around equity and access. A key event partner is the National Recreation and Park Ethnic Minority Society (NRPEMS). Chris Bass, assistant director of Douglasville (Georgia) Parks and Recreation, states, "In 2020, NRPEMS developed its strategic plan where our focus was to stimulate and perpetuate cultural competence for all recreation professionals by way of diversity, equity and inclusion. As a board member for NRPEMS and a team member of TEDxCollegePark, I am confident that this virtual event will not only help our members hear new ideas, but also ignite a spark that is needed to create an 'equal future' for all."
If you care about building future generations of kids who can be leaders on and off the field, Reggie Williams has an idea worth spreading. A college football Hall of Famer and former NFL player who played 14 seasons for the Cincinnati Bengals, Williams oversaw the creation of Disney's Wide World of Sports Complex (now ESPN Wide World of Sports). He envisions a world where access to play is a universal right for all.
What do you do when you are repeatedly the first or the only? You break through those ceilings and pave the way for the others to follow. Kim Davis is senior executive vice president of social impact, growth initiatives and legislative affairs for the National Hockey League (NHL), which has a particular focus on improving diversity in the league. The NHL brought Davis onboard specifically to lead these efforts. Hear her story from the South Side of Chicago to board rooms in New York City as she shares how you too can take the small moments in your life and become a "movement maker."
To inspire the next generation of leaders. Every single park and recreation professional I know feels a strong sense of pride in the impact they make on people's lives, and often, in the lives of kids. As the father of an 8-year-old boy, Kiaan, and a 3-year-old girl, Anika, I am particularly mindful of this impact and the importance of great role models who can inspire and empower them.
One such role model is Matt Beranek. At the ripe age of 16, he is an artist and a TikTok influencer with close to 2 million followers who will join us to share his message of protecting and preserving what we have and celebrating the true superheroes in our lives.
Bringing in a flair for the dramatic is Desire Cardoza, one of the most recognizable drag queens in Puerto Rico. Better known as "The Queen of the Night," Cardoza will inject a foot-tapping Latin feel into the event's proceedings.
Zane Robinson, a poet and spoken word artist from Richmond, Virginia, will look to end the day on a similarly resounding note.
Ultimately, what we want to do is open minds to new ideas that people can feel empowered by and compelled to implement. In the words of Simon Sinek, thought leader and superstar in the TED world, "What good is an idea if it remains an idea? Try. Experiment. Iterate. Fail. Try again. Change the world."
One More Thing…
To make the event as inclusive as possible, all registration fees have been waived. Thanks to The Unites Community Foundation, led by Communication Service for the Deaf (CSD), we also will have live captioning and American Sign Language Interpreters throughout the event to include members of the deaf and hard of hearing community in the conversation. We want to ensure everyone who cares about inclusion and innovation is at this virtual table so that, together, we can all build "An Equal Future."
Tune in to the March bonus episode of Open Space Radio to hear Bhatt talk more about TEDxCollegePark at nrpa.org/March2021BonusEpisode.
Neelay Bhatt is Principal at PROS Consulting, Inc., Curator for TEDxCollegePark and a Member of Parks & Recreation magazine's Editorial Advisory Board.