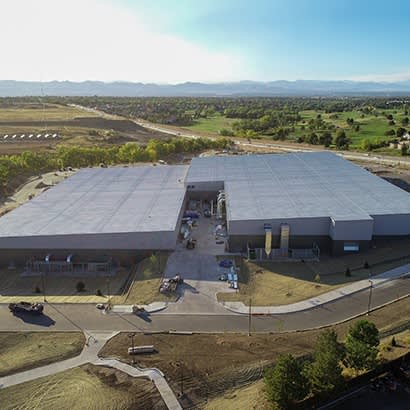 For an enhanced digital experience, read this story in the ezine.
The South Denver (Colorado) metro area population continues to steadily grow, and South Suburban Park and Recreation District (SSPRD) staff are doing their part to meet the needs of the changing community. A new 206,000-square-foot sports complex is set to open in February 2021 after SSPRD's 2017 Master Plan outlined the desire for more indoor recreational amenities. SSPRD is a special district that encompasses 46 square miles. Currently, it serves approximately 160,000 residents in six cities and towns throughout Arapahoe, Douglas and Jefferson counties.
"We recognized a need in our community to provide first-class, indoor recreation facilities," says SSPRD Executive Director Rob Hanna. "We've made a commitment to our patrons to provide the best in recreation and replace aging facilities, like the 52-year-old South Suburban Ice Arena. The new regional sports complex will provide more opportunities for ice sports and drop-in activities, such as pickleball, basketball, lacrosse and soccer."
In November 2017, SSPRD took a ballot initiative to the voters, asking them to allow SSPRD to increase its debt to improve trail connectivity, as well as fund water and energy efficiencies and improve and repair recreation facilities for seniors, families and children; build a new indoor multigenerational facility; and renovate and upgrade existing playgrounds and parks. Recognizing the importance of community investment and upgraded facilities, the public passed the measure.
"We created a Gold Medal Committee, which was a citizen's forum to discuss community needs and requests from South Suburban," says John Ostermiller, SSPRD Board chair from 2012 to 2018. "We learned that there was a strong interest in more ice time and additional turf fields. That feedback gave us confidence that voters would support a bond issue to increase the borrowing capacity, while not raising taxes. The response was very positive — we received more than a 70 percent favorable vote."
The facility will replace the aging South Suburban Ice Arena and the current administration offices. The project enlisted the architecture firm of Perkins + Will, and Adolfson & Peterson Construction, and broke ground on May 14, 2019.
The state-of-the-art complex is Americans with Disabilities Act compliant and boasts energy-
efficient lighting, plumbing and mechanical equipment. SSPRD also worked within Xcel Energy's design assistance program to ensure equipment is being used as efficiently as possible.
"Our community spoke, and we listened," says SSPRD Board Chair Susan Pye. "This is a unique facility that allows South Suburban to expand its recreation programs, leagues and classes to athletes of all ages and abilities."
The new regional complex features:
A center ice sheet with five locker rooms and seating for 800 spectators; a second sheet with five locker rooms and seating for 220 spectators; a third sheet with five locker rooms
A gymnasium that can be divided into two full-size basketball courts, four junior basketball courts, four volleyball courts or eight pickleball courts
Two indoor synthetic turf fields with dasher board systems
A restaurant and bar with views overlooking the ice sheets
A figure skating room
A dryland training room (office training area) with springboard floor, mirrors and a ballet bar
Concession stands
A pro shop
Party rooms and offices
"We're excited at the opportunity to grow our recreational skating programs with three available sheets of ice," says SSPRD General Manger of Ice Bill Dobbs. "We currently have the largest skating program in the region, but we are always looking to expand. We are working with USA Hockey on a grow-the-game pilot program, where skaters can try hockey for free. The goal is to make the sport accessible for everyone at a grassroots level."
To learn more about the South Suburban Sports Complex, visit ssprd.org/sports-complex.
Becky Grubb is the Communications and Marketing Manager at South Suburban Park and Recreation District (bgrubb@ssprd.org).