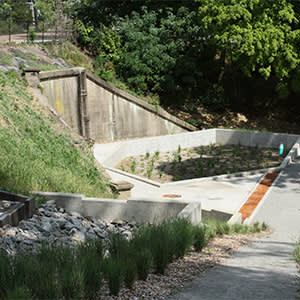 For an enhanced digital experience, read this story in the ezine.
NRPA envisions a future where greener parks, or those that incorporate multi-benefit green infrastructure elements, are viewed as essential community infrastructure that provides environmental, health, economic and social benefits to build community resilience and advance community health and well-being. As the disparities in the nation's political and social systems continue to be underscored, demand for park access grows and climate change worsens, there is significant momentum among the park and recreation profession to work to ensure equitable distribution of greener parks. Based on a review of the literature, policies and perceptions around parks, green infrastructure (GI) and health outcomes, NRPA developed the Greener Parks for Health resources to provide park and recreation professionals with the tools to communicate about, advocate for and standardize greener parks to improve community well-being, especially in communities facing environmental, health, economic and social injustices. These professionals already are taking advantage of our resources to build upon successes in their communities to advance greener parks.
Addressing Environmental Challenges
Like many other midsize cities in the nation's rustbelt, Pittsburgh, Pennsylvania, is working to confront aging stormwater infrastructure that threatens residents' health, safety and quality of life through repeat flooding and combined sewage overflows. These environmental challenges are especially problematic for historically marginalized neighborhoods in Pittsburgh, where lower-income populations and communities of color are concentrated. The Pittsburgh Parks Conservancy (PPC) has been integrating GI into their city-wide planning efforts and park redevelopment projects, but communicating the benefits of GI to elected officials, community members and city leaders remains a challenge for PPC staff. When the Greener Parks for Health Communications Toolkit reached the PPC's communications team, they immediately began integrating the recommended language and social media hashtags into the communications materials they were sending out about their ongoing green infrastructure park projects. This helped PPC broaden their reach and more effectively communicate the impact of their work. It also forms an important communications foundation to build on when PPC and the Pittsburgh City Council resume negotiations about investing the funds generated by a recently passed property tax increase aimed at city park improvements. As Gavin White, community projects manager at PPC notes, "It's great to have national resources at our disposal, and examples of how other cities successfully invest in green infrastructure projects in parks. These accomplishments give us credibility when we discuss green infrastructure projects with our community."
In Worcester, Massachusetts — a city of about 200,000 people, just 40 miles west of Boston — green infrastructure is a more established community strategy. As part of a statewide climate resilience plan that helps Massachusetts cities tap into federal funding, the Parks, Recreation and Cemetary Division of the City of Worcester's Department of Public Works and Parks includes green infrastructure as part of its Open Space and Recreation plans. These are the types of policies that the Greener Parks for Health Policy Action Framework identifies and recommends. "Although Worcester has been including green infrastructure as a community-wide stormwater management practice for over a decade, we see other cities struggling to institutionalize it in the way that we have," says Robert Antonelli, assistant commissioner at Worcester Department of Public Works and Parks. "The Greener Parks for Health resources are important because they showcase successful ways that communities are doing this work and offer tactical guidance for city leaders to follow. Having the high-level policies in place is critical to supporting green infrastructure work on the ground."
The highest level of policy support relies on federal legislation and funding. NRPA and the Parks & People Foundation in Baltimore, Maryland, hosted a Capitol Hill meeting with Senator Ben Cardin's office to discuss the Greener Parks for Health Policy Action Framework. Steve Preston, park design and construction manager at Parks & People Foundation, shares, "We have a good relationship with our state legislators, but teaming up with a national organization to strategically talk about ways to advance green infrastructure in parks really elevates the profile of Parks & People. Talking about our park projects and the Greener Parks for Health tools with Senator Cardin's office gave us an opportunity to deepen our relationship and share how our work in some of Baltimore's highest-need communities can serve as a model for park improvements throughout the city and the nation."
These Greener Parks for Health resources not only provide clear guidance for how to communicate about and advocate for green infrastructure in parks, but also offer a specific opportunity to start a conversation with elected officials, community members and key agency leadership about green infrastructure. To view the research and Greener Parks for Health resources, please visit nrpa.org/GreenerParksForHealth.
Wende David is NRPA's former Senior Conservation Program Manager.